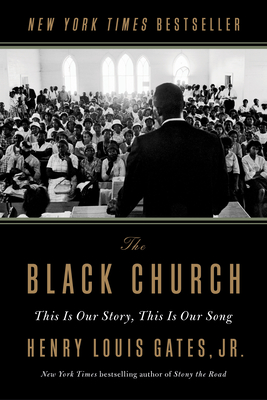 The Black Church: This Is Our Story, This Is Our Song
Publication Date:
February 16th, 2021
Usually Ships in 1 to 5 Days
Description
The instant New York Times bestseller and companion book to the PBS series.
"Absolutely brilliant . . . A necessary and moving work." —Eddie S. Glaude, Jr., author of Begin Again
"Engaging. . . . In Gates's telling, the Black church shines bright even as the nation itself moves uncertainly through the gloaming, seeking justice on earth—as it is in heaven." —Jon Meacham, New York Times Book Review
From the New York Times bestselling author of Stony the Road and The Black Box, and one of our most important voices on the African American experience, comes a powerful new history of the Black church as a foundation of Black life and a driving force in the larger freedom struggle in America.
For the young Henry Louis Gates, Jr., growing up in a small, residentially segregated West Virginia town, the church was a center of gravity—an intimate place where voices rose up in song and neighbors gathered to celebrate life's blessings and offer comfort amid its trials and tribulations. In this tender and expansive reckoning with the meaning of the Black Church in America, Gates takes us on a journey spanning more than five centuries, from the intersection of Christianity and the transatlantic slave trade to today's political landscape. At road's end, and after Gates's distinctive meditation on the churches of his childhood, we emerge with a new understanding of the importance of African American religion to the larger national narrative—as a center of resistance to slavery and white supremacy, as a magnet for political mobilization, as an incubator of musical and oratorical talent that would transform the culture, and as a crucible for working through the Black community's most critical personal and social issues.
In a country that has historically afforded its citizens from the African diaspora tragically few safe spaces, the Black Church has always been more than a sanctuary. This fact was never lost on white supremacists: from the earliest days of slavery, when enslaved people were allowed to worship at all, their meetinghouses were subject to surveillance and destruction. Long after slavery's formal eradication, church burnings and bombings by anti-Black racists continued, a hallmark of the violent effort to suppress the African American struggle for equality. The past often isn't even past—Dylann Roof committed his slaughter in the Mother Emanuel AME Church 193 years after it was first burned down by white citizens of Charleston, South Carolina, following a thwarted slave rebellion.
But as Gates brilliantly shows, the Black church has never been only one thing. Its story lies at the heart of the Black political struggle, and it has produced many of the Black community's most notable leaders. At the same time, some churches and denominations have eschewed political engagement and exemplified practices of exclusion and intolerance that have caused polarization and pain. Those tensions remain today, as a rising generation demands freedom and dignity for all within and beyond their communities, regardless of race, sex, or gender. Still, as a source of faith and refuge, spiritual sustenance and struggle against society's darkest forces, the Black Church has been central, as this enthralling history makes vividly clear.
Praise for The Black Church: This Is Our Story, This Is Our Song
"A wide-ranging tour of Black religion. . . . The Black Church is an ambitious book that offers an informative and important intellectual journey across the centuries." —The New York Review of Books
"Gates Jr. sublimely evokes the power of worship to create both religious and political solidarity. Drawing on meticulous archival research, as well as on insightful interviews with a diverse group of religious leaders, Gates plumbs the history of the Black church in America. . . . [This] enthralling book offers a powerful reminder that our actions affect the communities in which we live." —BookPage
"Vibrant, incisive. . . Meticulously reported, the book is its own rich sermon . . . it's nigh impossible to not stamp our feet and shout, 'Amen!' . . . A marvel, a breezy, illuminating tale of a distinctly powerful institution at the beating heart of the American Experiment, and an invaluable work from a masterful chronicler." —Hamilton Cain, Minneapolis Star Tribune
"Engaging. . . . In Gates's telling, the Black church shines bright even as the nation itself moves uncertainly through the gloaming, seeking justice on earth—as it is in heaven." —Jon Meacham, New York Times Book Review
 
"Gates's thoughtful, comprehensive survey . . . examines the political as well as the spiritual role of the Black Church, and the way it has both shaped and been shaped by the world outside the walls of individual churches." —Columbus Dispatch
 
"Sweeping, vivid. . . . The eminent Harvard historian and connoisseur of American lives [Henry Louis Gates, Jr.] turns his compassionate gaze to the black church, illuminating a pantheon of good shepherds who brought a fierce social conscience to the Lord's work. Sojourner Truth, Martin Luther King, Jr., Jesse Jackson, Barbara Hale, recently-elected Georgia Senator Raphael Warnock: all spring to life as spiritual visionaries and carpenters of the arc of justice." —Oprah Magazine
 
"Gates combines reflections on his childhood with centuries of history in his thoughtful examination of the Black church in America. Blending research, interviews with scholars and insights from his own life, Gates illuminates the central role of the Black church in the movement for social justice and the support network it has been for a community often in need of safe spaces. . . . [The Black Church] is as comprehensive as it is celebratory." —Time
"Fascinating . . . Meticulously researched, The Black Church spans more than 400 years of Black ecclesiastical history in the United States States—beginning with Catholic enslaved people brought by the Spaniards and continuing all the way to John Legend's take on the essential role the church played in his early life." —Shelf Awareness
"Readers of American religious and African American history will not want to miss this title." —Library Journal
"[An] invaluable illumination of the many ways the Black church has been an ongoing epicenter of inspiration and action." —Booklist (starred)
"Through meticulous research and interviews . . . Gates paints a compelling portrait of the church as a source of 'unfathomable resiliency' for Black ancestors as well as the birthplace of so many distinctly African American aesthetic forms. . . . Powerful, poignant, and ultimately celebratory. Let the church say, 'Amen!'" —Kirkus (starred review)
 
"A brisk and insightful look at how the Black church has succored generations of African Americans against white supremacy. . . . Punctuated by trenchant observations from Black historians and theologians, Gates's crisp account places religious life at the center of the African American experience." —Publishers Weekly
"Henry Louis Gates, Jr., has once again delved deep into the doings and sufferings of Black people in the USA! This time he gives us a rich story and riveting song of the profound forms of spirituality and musicality that sustained Black sanity and dignity. Although Gates rightly highlights the centrality of the ambiguous legacy of the Black Church, he also explores the crucial realities of Islam and other non-Christian religious practices. And the last powerful and playful chapter on his personal dance with an elusive Holy Ghost lays bare his own signifying genius grounded in a genuine love of Black people and culture!" —Cornel West
"Absolutely brilliant—a book that should spark a very rich conversation within the field and echo far beyond it. Its reckoning with the Holy Ghost in the context of Gates's own childhood is extraordinary. More than a wonderful synthesis of a deep literature about Black Christendom, it is a necessary reminder of where the Black community has found its strength to persevere, and to fight, and where it must find it still. Not least, Gates shows us that sacred music has never just been music; it is a taproot and a through-line across all of American history. A necessary and moving work." —Eddie S. Glaude, Jr., author of Begin Again
"A brilliant book: while I've spent some years studying this topic, I was enriched by how much new still is to be learned. Gates's insights into the role of the Holy Ghost in the Black Church are particularly revelatory. This is a rich and absorbing survey of the people, ideas, institutions, and expressions that have formed Black American history, and indelibly imprinted all of American history. You'll learn a lot about the past, and understand more about the present. Absolutely marvelous." —Paul Harvey, Professor of History, University of Colorado, Colorado Springs, author of Through the Storm, Through the Night: A History of African American Christianity
"A path-breaking book: Henry Louis Gates approaches the Black Church as a subversive cultural system, opening up a vital cross-disciplinary conversation about the true import of this pillar of the African American community, so central to our history, our identity, and our movements for social justice. As engaging as a compelling novel yet brimming with important contemporary scholarship, The Black Church sheds brilliant new light on the problem of religion and race in America, and the critical role of Black Christians in achieving equity, justice, and the 'healing of the nation.'" —Cheryl Townsend Gilkes, Assistant Pastor, Union Baptist Church; John D. and Catherine T. MacArthur Professor, African American Studies and Sociology, Colby College
"If you want to understand the long arc of black struggle, hope and resilience, read Gates' The Black Church.  It is a concise and compelling history of the significance of black churches in American society." —Marla Frederick, PhD, Asa Griggs Candler Professor of Religion and Culture, Emory University, Candler School of Theology