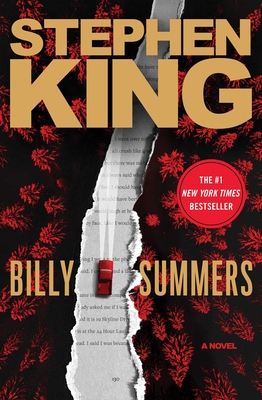 Billy Summers
Publication Date:
August 3rd, 2021
Usually Ships in 1 to 5 Days
Description
Master storyteller Stephen King, whose "restless imagination is a power that cannot be contained" (The New York Times Book Review), presents an unforgettable and relentless #1 New York Times bestseller about a good guy in a bad job.
Chances are, if you're a target of Billy Summers, two immutable truths apply: You'll never even know what hit you, and you're really getting what you deserve. He's a killer for hire and the best in the business—but he'll do the job only if the assignment is a truly bad person. But now, time is catching up with him, and Billy wants out. Before he can do that though, there's one last hit, which promises a generous payday at the end of the line even as things don't seem quite on the level here. Given that Billy is among the most talented snipers in the world, a decorated Iraq war vet, and a virtual Houdini when it comes to vanishing after the job is done, what could possibly go wrong? How about everything.
Part war story and part love letter to small-town America and the people who live there, this spectacular thriller of luck, fate, and love will grip readers with its electrifying narrative, as a complex antihero with one last shot at redemption must avenge the crimes of an extraordinarily evil man. You won't ever forget this stunning novel from master storyteller Stephen King…and you will never forget Billy.
Praise for Billy Summers
Praise for Billy Summers 
Named a Best Book of 2021 by BookBub, Booklist, Esquire, Goodreads Choice Awards, Kirkus, Parade, Scribd, Apple Books, Tampa Bay Times, and The Wall Street Journal! 
"Billy Summers is an ambitious, controlled and compelling shapeshifter of a book: combat novel, platonic romance, noir caper, portrait of an artist coming of belated age. Its pleasures are numerous, and it touches the mind, heart and nervous system in equal measure."
—The Wall Street Journal
"Billy Summers is the perfect summertime treat – solidly crafted, deliciously suspenseful and surprisingly heartfelt. King plays to all his strengths: deep characterization, clever plotting and this time an ending that seems both logical and well earned… Billy Summers might be King's most bookish thriller to date, an incisive character study wrapped inside a road novel, coupled with a very unconventional love story."
—Portland Press-Herald
"Not to put too fine a point on it, but BILLY SUMMERS is the best Stephen King novel in a while… [it] has the irresistible forward motion that's characteristic of just about every story Stephen King ever wrote... [what] sets this book apart [is] its stylistic brilliance... I was blown away by this book... a variety of voices, sharply tuned to the personae of one character, are measured, developed and explored across a truly gripping adventure story... one of Stephen King's masterpieces."
—Dana Wilde, Central Maine
"A tense, absorbing story about a brainy hitman struggling to go straight — and the author's best novel in many years... an engrossing read, deftly plotted, suitably hard-boiled, and at times almost magically imagined."
—The Los Angeles Review of Books
"King's latest stars a killer-for-hire whose final assignment involves moving to a small Southern town and taking cover as a writer, a job that turns out to be as rewarding as killing bad guys. As for the hit, it doesn't go so well, but that's part of the allure of this twisty, multilayered thriller."
—The Washington Post
"A noirish, unputdownable thriller that's also King's best book about his own craft since On Writing."
—People Magazine
"Multifaceted… hard-to-put-down… It's two stories for the price of one, and King gives readers their money's worth."
—Amanda St. Amand, The St Louis Post-Dispatch
"King writes beautifully about both the seemingly humdrum details of small town living, the seedier backwaters of America and of the idiosyncrasies of Summers, as compelling a main character as he's ever written…a refreshingly straightforward, often wildly entertaining and intricately plotted tale of revenge and redemption."
—Emily Burnham, Bangor Daily News
"A testament to its author's undimmed energy and confidence. His eye for detail, especially at the dreckier end of roadside culture, is sharp…lively and vivid."
—The New York Times Book Review 
"Among the many remarkable things about Stephen King is that he has yet to run out of ideas. Or put another way: He's very good at finding new ways to explore themes that have interested him his entire career… The passages where Billy writes his life story are some of the best in the book… It's when [Billy] finds an audience for his story that the book really starts to find its groove."
—Rob Merrill, The Associated Press
"A first act of stunning formal control… a delicious engine of tension… a delightfully tense crime thriller… somehow both hard-boiled and human, and on par with much of King's best work… King can still build tidal waves of tension from the smallest deviation from plan, sending Constant Readers plunging deep into the flop-sweat insecurities of his heroes as they watch a situation potentially spiral out of control. In situating Billy's atonement in communication and creation, not violence, King manages to find a space for redemption… Billy Summers is winningly optimistic about the life of the creative mind. More than almost any other King book in recent memory, it's a product of its time, but not a victim of it."
—William Hughes, The AV Club
"Stephen King is an artist, and readers and critics who underestimate him do so at their own peril…Billy Summers is a very good story, told economically with an ear for rhythm. It's about what it's like to be a human being, and how that doesn't really change much, no matter what situation you find yourself in…while there are plenty of action sequences, the heart of this novel lies in its quietest moments."
—Philip Martin, The Northwest Arkansas Democrat Gazette
"A love letter to the transformative effects of putting words on paper…the impassioned argument Mr. King makes for the role of writing in healing traumas is heartfelt and affecting… fast-paced and cleverly constructed… written with Mr. King's legendary eye for detail, and his ability to immerse readers in the mindsets of fictional characters serves the story well… witnessing this deeply-scarred man discover a new way of seeing himself and his place in the world is beautifully resonant. Mr. King's sheer pleasure in the alchemy of turning mere words into entire universes is on full display here, and it is contagious — not just for Billy, but perhaps for Constant Readers as well."
—Wendeline Wright, The Pittsburgh Post-Gazette
"Stephen King hits the mark with assassination thriller Billy Summers…It's downright unfair, really: Not only is Stephen King an undisputed master of horror, he's a virtuosic crime novelist as well… King actually is as good at the hard-boiled prose—in this case, the tale of an extremely effective assassin trying to get out after one last job—as he is the scary stuff… King's known for his literary villains, yet in creating his killer title protagonist, he exquisitely gets into the mind of a hitman and roots around in there to figure out what kind of person would do wetwork, the loneliness involved for those who choose that as a career path and the effect it would have on friends and loved ones… The biggest crime here, however, would be missing out on Billy Summers and King's new reign as a pulp genius."
—Brian Truitt, USA Today
"King's latest endeavor begins with a familiar premise: decorated veteran Billy Summers, a principled hit man on the eve of retirement, agrees to do one last job. Things go south in spectacularly bad fashion, making for a characteristically King thriller about luck, fate, and redemption. To see the undisputed master of horror shift into the realm of noir thrillers is proof that King can still surprise and astound us, all these decades later."
—Esquire
"King has multiple novels in play here—thriller, at least two coming-of-age stories, and a knockout road novel—and he knits them together beautifully, never missing a stitch ... King has never been better than he is here at wrapping readers into a propulsive, many-tentacled narrative—complete with a perfectly orchestrated, moving ending."
—Booklist, starred 
"[A] tripwire-taut thriller... King meticulously lays out the details of Billy's trade, his Houdini-style escapes, and his act to look simpler than he is, but the novel's main strength is a story within a story... This is another outstanding outing from a writer who consistently delivers more than his readers expect."
—Publisher's Weekly, starred
"The ever prolific King moves from his trademark horror into the realm of the hard-boiled noir thriller ... Murder most foul and mayhem most entertaining. Another worthy page-turner from a protean master." 
—Kirkus, starred