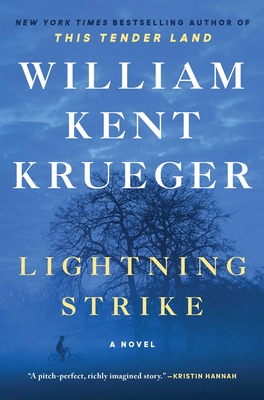 Lightning Strike: A Novel (Cork O'Connor Mystery Series #18)
Publication Date:
August 24th, 2021
Description
An instant New York Times bestseller, this prequel to the acclaimed Cork O'Connor series is "a pitch perfect, richly imagined story that is both an edge-of-your-seat thriller and an evocative, emotionally charged coming-of-age tale" (Kristin Hannah, #1 New York Times bestselling author) about fathers and sons, small-town conflicts, and the events that shape our lives forever.
Aurora is a small town nestled in the ancient forest alongside the shores of Minnesota's Iron Lake. In the summer of 1963, it is the whole world to twelve-year-old Cork O'Connor, its rhythms as familiar as his own heartbeat. But when Cork stumbles upon the body of a man he revered hanging from a tree in an abandoned logging camp, it is the first in a series of events that will cause him to question everything he took for granted about his hometown, his family, and himself.
Cork's father, Liam O'Connor, is Aurora's sheriff and it is his job to confirm that the man's death was the result of suicide, as all the evidence suggests. In the shadow of his father's official investigation, Cork begins to look for answers on his own. Together, father and son face the ultimate test of choosing between what their heads tell them is true and what their hearts know is right.
In this "brilliant achievement, and one every crime reader and writer needs to celebrate" (Louise Penny, #1 New York Times bestselling author), beloved novelist William Kent Krueger shows that some mysteries can be solved even as others surpass our understanding.
Praise for Lightning Strike: A Novel (Cork O'Connor Mystery Series #18)
"Lightning Strike explores the tender relationship between father and son.  It is written with grace and understanding.  It is a stunning novel that will captivate readers even if they've never read a Cork O'Connor mystery." —Denver Post
"William Kent Krueger is a master storyteller at the top of his game with Lightning Strike.  A pitch perfect, richly imagined story that is both an edge-of-your-seat thriller and an evocative, emotionally-charged coming of age tale that explores the complex bonds between fathers and sons and the long simmering animosities of the past.  This is a beautifully written novel that packs a powerful punch.  I loved it." —Kristin Hannah, #1 New York Times bestselling author of The Four Winds
"Marvelous. I've long been a fan of William Kent Krueger's Cork O'Connor series, and this essential novel allows us to witness how young Cork developed and matured. Not just a story of fathers and sons, it's also a tale of Natives and settlers and how laws such as the Indian Relocation Act influenced both…A gripping, heartbreaking tale with beautiful writing, vividly drawn characters, and a story you won't be able to put down." —David Heska Wanbli Weiden, Edgar and Anthony Award-nominated author of Winter Counts
"Lightning Strike is a brilliantly plotted, deeply emotional mystery that opens strong, building more intensity with each passing page. This is William Kent Krueger at his best, and the perfect spot for new readers to enter the series." —The Real Book Spy
"Poignant, powerful, and mesmerizing… Krueger skillfully blends big, suspenseful moments with quiet, keenly observed insights into human nature. This novel is rich with wisdom about right and wrong, choice and change, fathers and sons, and the ways in which loss can shape us as profoundly as love." —Amazon Book Review
"A brilliant achievement, and one every crime reader and writer needs to celebrate." —Louise Penny, #1 New York Times bestselling author of The Madess of Crowds 
"There's a feel that you get from a master craftsman, a saddle that sits right, a fly rod that casts with its own agility, or a series of books written with a grace and precision so stunning that you'd swear the stories were your own." —Craig Johnson, author of the Walt Longmire series
"Among thoughtful readers, William Kent Krueger holds a very special place in the pantheon. Kent showed the mystery reading world that a protagonist need not be a chain-smoking loner with lots of emotional baggage but he could be an honest and admirable family man doing his best for all the right reasons." — C.J. Box, #1 New York Times bestselling author
"Krueger's gift is to illustrate the dynamics of history and culture through up-close-and-personal stories." —The New York Journal of Books
"This sensitive, moving prequel introduces and draws readers into the series. Krueger has written another perceptive coming-of-age novel, the poignant story of a father and son trying to understand each other." —Library Journal (starred review)
"Krueger winds back time, literally and symbolically . . . with . . . suspenseful measured pacing, his accomplished prose and his carefully crafted plot." —Minneapolis Star-Tribune