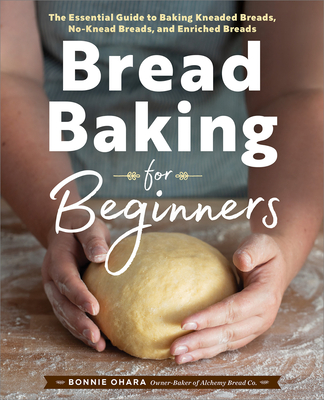 Bread Baking for Beginners: The Essential Guide to Baking Kneaded Breads, No-Knead Breads, and Enriched Breads
Publication Date:
October 23rd, 2018
Publisher:
Rockridge Press
Usually Ships in 1 to 5 Days
Description
The guidance you need to go from absolute beginner to artisanal bread baker
Discover how anyone can combine flour, yeast, water, and salt to create hot and delicious bread in the comfort of your own kitchen. Filled with straightforward guidance, Bread Baking for Beginners is the ideal bread cookbook for new bakers. Complete with step-by-step photographs and instructions, this beautiful bread baking guide offers a tasty collection of recipes for kneaded, no-knead, and enriched breads that you'll love. In addition to important info on everything from prep and proof times to key terminology and kitchen essentials, you'll also get must-have tips for troubleshooting bread baking issues.
KNEAD TO KNOW: Discover the science behind the bread baking process, popular techniques, and the tools needed to bake fluffy, flavorful loaves so you can bake bread for everyone at your table.
STEPPING SCONES: Level up your bread baking skills with recipes that progress from a beginner's, easy-to-master recipe into dozens of intermediate and advanced sweet and savory breads.
FROM 'D'OH!' TO DOUGH: Troubleshoot bread baking issues with FAQs that address everything from burnt brioche to deflated baguettes.
This bread cookbook will help you master the craft of bread making so you can share homemade loaves with the whole family.
Praise for Bread Baking for Beginners: The Essential Guide to Baking Kneaded Breads, No-Knead Breads, and Enriched Breads
"I can truly say that this is the only bread-making book that I have read from beginning to end, like a story. Bonnie takes her pupils by the hand and immerses them in a comprehensive conversation about the bread-making journey. With gentle encouragement, the reader is guided through bite-sized, digestible chunks of simple methodology and techniques. The baker is able to learn as they go. Bonnie masterfully invites the new baker to walk before they can run, starting with straightforward yeasted doughs, then adding inclusions, building ferments, and finally arriving at the recipe for her own bakery's prized Alchemy Sourdough. Bonnie's book is enabling and easy-to-understand. It's a must-have for anyone embarking on the enriching and therapeutic endeavor of making good daily bread. How I wish I had begun my journey with this book!"—Tami Isaacs Pearce, owner and bread baker, Karma Bread Bakehouse
"It's so nice to have a bread book that's genuine in its commitment to help you succeed! Bonnie's line in the book that says, "what I hope to do with this book is take you seriously from the start," is exactly what every home baker wants and needs to hear. Her message is clear: Get back to basics, use your instincts, relish the small victories, make the bread how you want to eat it, create something good, share it. Real bread is attainable. Bread Baking for Beginners is an inviting framework for successful bread-making, and Bonnie is a truly generous host who invites you into her kitchen."—Jess Wagoner, bread baker and production manager at A&J King Artisan Bakers
"What a sweet joy I found in this book! Bread is the deepest symbol of community, and it is hard to find someone who has baked a more beautiful life than Bonnie O'hara. Here is a knowledgeable teacher, a tender cheerleader, and a joyful friend to teach you how to take the first steps—from building your first yeasted dough to playing with starters. The daunting task of making your own bread seems approachable and warm here, as Bonnie easily mixes anecdotes, bakers' formulas, pictures of her kids laughing, terminology, and beautiful golden loaves within these pages. More than just for beginners, this book lays the foundation for anyone to become a great bread-maker."—Rose Lawrence, founder of Red Bread and pastry chef at Rustic Canyon
"From her self-made bakery at her home in California to the expertly-written pages of her book, Bonnie shows you how to get started—and succeed at—baking healthy, nutritious bread from your own home. As you make your way through her inspirational and approachable book, don't be surprised if the urge to create your very own home bakery starts to take root!"—Maurizio Leo, baker and founder of ThePerfectLoaf.com
"An uncomplicated explanation of a complicated subject. Clear and encouraging, this wonderful book will inspire confidence in those ready to bake their own bread at home."—Rachel Frost, senior bread baker at Della Fattoria