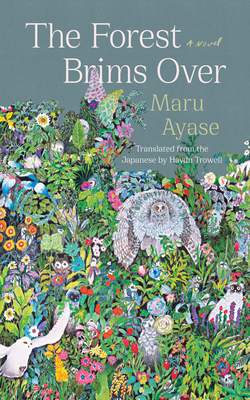 The Forest Brims Over: A Novel
Publication Date:
July 25th, 2023
Usually Ships in 1 to 5 Days
In an act of resistance towards her husband's exploitation, Rui eats a bowl of seeds that sprout from her body.The Forest Brims Overis a surreal unfolding of a marriage exploring how gender affects our relationships with others and ourselves.
August 2023 Indie Next List
Description
A woman turns herself into a forest after long being co-opted to serve as the subject of her husband's novels—this surrealist fable challenges traditional gender attitudes and exploitation in the literary world
Nowatari Rui has long been the subject of her husband's novels, depicted as a pure woman who takes great pleasure in sex. With her privacy and identity continually stripped away, she has come to be seen by society first and foremost as the inspiration for her husband's art. When a decade's worth of frustrations reaches its boiling point, Rui consumes a bowl of seeds, and buds and roots begin to sprout all over her body. Instead of taking her to a hospital, her husband keeps her in an aquaterrarium, set to compose a new novel based on this unsettling experience. But Rui breaks away from her husband by growing into a forest—and in time, she takes over the entire city.
As fantasy and reality bleed together, The Forest Brims Over challenges unconscious gender biases and explores the boundaries between art and exploitation—muse abuse—in the literary world.
Praise for The Forest Brims Over: A Novel
Tokyo Weekender, A Most Anticipated Title
"'Reality affects what we can write, and then we read books about that reality, which changes our current reality in turn,' explains Ayase. The effectiveness of The Forest Brims Over lies precisely in Ayase's thorough awareness of this power of fiction: While we may never grow forests out of our bodies, Ayase has enabled us to experience in her words how doing so might just change society for the brighter." —Eric Margolis, The Japan Times
"Maru Ayase takes on gender roles and women's agency in surreal and magical prose." —Ms.
"The Forest Brims Over is worth reading as a fable gone feral, and a framing of ideas important to the way people feel and interact with each other." —Daily Kos
"A terrific, dreamlike page-turner." —J. R. Ramakrishnan, Words Without Borders
"A layered exploration of what it means to create, and the gendered labor that goes into sustaining artistic creation." —Jaeyeon Yoo, Electric Literature
"This surrealist story mixes botanist wonder, compelling characters, a bitter, ironic humor, and a wild, untamable feminine anger that together make the book a thought-provoking and quick read." —Booklist
"A sprightly, compelling tale with magical realist flair in which a novelist's muse takes charge of her own story." —Kirkus Reviews
"Ayase's inventive English-language debut offers a fantastical account of the gendered power dynamics between a writer and his muse . . . This smart and dreamy story will leave English-language readers wanting more from Ayase." —Publishers Weekly
"The Forest Brims Over fascinates with its surrealistic and yet all-too-familiar tale of female agency subsumed under male ambition. Again and again the prose shifts registers and morphs, a feat that Ayase and Trowell pull off beautifully." ––YZ Chin, author of Edge Case