Discounted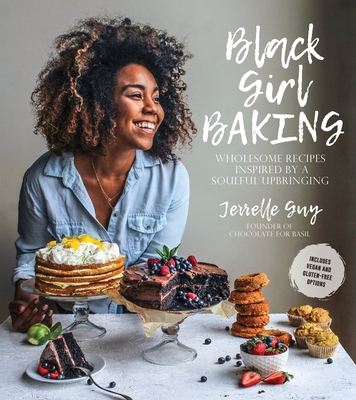 Black Girl Baking: Wholesome Recipes Inspired by a Soulful Upbringing
Previous price:

$23.99
Current price:

$22.99
Publication Date:
February 6th, 2018
Publisher:
Page Street Publishing
Usually Ships in 1 to 5 Days
Description
**As seen on Netflix's High on the Hog**

**2019 James Beard Foundation Book Award Nominee**
"Black Girl Baking has a rhythm and a realness to it." - Carla Hall, Chef and television personality
Invigorating and Creative Recipes to Ignite Your Senses
For Jerrelle Guy, food has always been what has shaped her—her body, her character, her experiences and her palate. Growing up as the sensitive, slightly awkward child of three in a race-conscious space, she decided early on that she'd rather spend her time eating cookies and honey buns than taking on the weight of worldly issues. It helped her see that good food is the most powerful way to connect, understand and heal.
Inspired by this realization, each one of her recipes tells a story. Orange Peel Pound Cake brings back memories of summer days eating Florida oranges at Big Ma's house, Rosketti cookies reimagine the treats her mother ate growing up in Guam, and Plaited Dukkah Bread parallels the braids worked into her hair as a child.
Jerrelle leads you on a sensual baking journey using the five senses, retelling and reinventing food memories while using ingredients that make her feel more in control and more connected to the world and the person she has become. Whole flours, less refined sugar and vegan alternatives make it easier to celebrate those sweet moments that made her who she is today.
Escape everyday life and get lost in the aromas, sounds, sights, textures and tastes of Black Girl Baking.
Praise for Black Girl Baking: Wholesome Recipes Inspired by a Soulful Upbringing
"Black Girl Baking is made for the new-aged baker looking for a place to belong. Jerrelle offers us her unique perspective, stunning imagery and remarkable recipes. After reading her book, I felt inspired to learn something new in the kitchen and inspired to discover something new about myself."
—Jocelyn Delk Adams, author of Grandbaby Cakes
"Jerrelle's recipes and stories create a beautiful, warm world that you'll be drawn into from the very beginning. To add Black Girl Baking to your cookbook collection is like gaining a new friend to bake with. I am so excited about this book!"
—Molly Yeh, author of Molly on the Range, creator of My Name is Yeh
"This is more than just a cookbook. Not only was I left eager to cook and bake, but also intrigued by Jerrelle's nostalgic descriptions of food, family and the roles they play in her life—simply beautiful and satisfying."
—Alexandra Elle, author of Words from a Wanderer and Neon Soul, founder and host of the podcast hey, girl.
"Jerrelle has a unique ability to infuse story-telling, cooking and comfort into her recipes. She uses wholesome ingredients to create works of art that appeal to both the novice and seasoned cook."
—Wendy Lopez & Jessica Jones, authors of 28-Day Plant-Powered Health Reboot