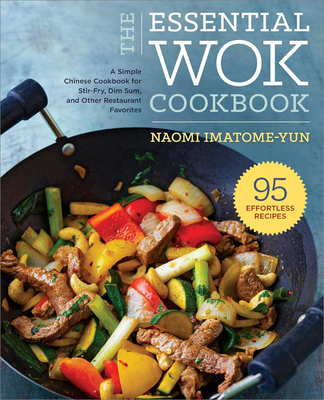 The Essential Wok Cookbook: A Simple Chinese Cookbook for Stir-Fry, Dim Sum, and Other Restaurant Favorites
Publication Date:
May 8th, 2015
Publisher:
Rockridge Press
Description
Classic Chinese flavors come home—a comprehensive Asian cookbook.
Ordering Chinese takeout is easy—but it's definitely not the healthiest or most affordable way to enjoy Chinese comfort food at home. With this simple cookbook in your kitchen and a mighty wok in your hand, Chinese favorites are now quicker, healthier, and cheaper than delivery.
The Essential Wok Cookbook is your guide to mastering the wok, the versatile pan that makes possible all of the Chinese restaurant dishes you love—no extra salt, oil, or MSG required. Beyond tips for selecting, seasoning, and caring for your wok, this cookbook also provides:
Step-by-step illustrations for how to fold a dumpling, egg roll, and wonton
Fun features on the origin stories and American reinventions of foods such as egg drop soup and fortune cookies
Recipe labels to help you decide what to make when you're short on time (30 minutes or less) and tight on cash (under $10)
Recipe tips to swap ingredients, save time, make a dish more healthy, or kick up the heat
If a journey of a thousand miles begins with a single step, start cooking today with your wok and see just how far The Essential Wok Cookbook will take you.
Fire up the wok with recipes like Perfect Pork Pot Stickers, Easy Vegetable Stir-Fry, Lighter Egg Foo Young, Sweet Chili Shrimp, General Tso's Chicken, Better Beef with Broccoli, and many more!