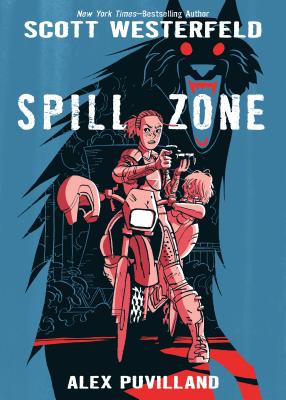 Spill Zone Book 1
Publication Date:
May 2nd, 2017
Description
Do you dare enter the Spill Zone? From science fiction visionary Scott Westerfeld and artist Alex Puvilland comes the first volume of this dystopian graphic novel duology
Three years ago an event destroyed the small city of Poughkeepsie, forever changing reality within its borders. Uncanny manifestations and lethal dangers now await anyone who enters the Spill Zone.
The Spill claimed Addison's parents and scarred her little sister, Lexa, who hasn't spoken since. Addison provides for her sister by photographing the Zone's twisted attractions on illicit midnight rides. Art collectors pay top dollar for these bizarre images, but getting close enough for the perfect shot can mean death—or worse.
When an eccentric collector makes a million-dollar offer, Addison breaks her own hard-learned rules of survival and ventures farther than she has ever dared. Within the Spill Zone, Hell awaits—and it seems to be calling Addison's name.
Praise for Spill Zone Book 1
"A little dark, a little twisted, and completely enthralling." —Marissa Meyer, #1 New York Times–bestselling author of The Lunar Chronicles and Heartless

"As frightening as Spill Zone can be, though, its greatest asset is its muscle-tensing suspense. Reading it feels like binge-watching a great cable series, complete with the same feeling of despair you get when you finish the final episode and realize you've got a long time to wait for the next season." —The New York Times
"Puvilland, an animator for DreamWorks, has a rough, kinetic style that brings to life the rough, kinetic world of Spill Zone." —Los Angeles Review of Books
"If Katniss Everdeen's your gal, you're going to want to meet Addison Merritt." —Entertainment Weekly
"Amazing." —io9
"Expect some stunning sci-fi spectacle when Addison ventures into the Spill Zone." —A.V. Club
"Westerfeld...establishes several compelling mysteries in this series opener, and Puvilland captures the haunting surreality of the Spill Zonethrough an unearthly pastel/neon palette that oozes a sense of wrongness every moment Addison spends there." —Publishers Weekly, starred review

"This unnerving, gripping title—Westerfeld's first original graphic novel—is bound to entice older comics fans, especially those interested in darker sci-fi and nuanced characterization." —School Library Journal, starred review

"Westerfeld handles the spooky business of the infected town magnificently, spiking the eerie and inexplicable with moments of genuine horror, while always keeping the emotional tensions of his highly accessible teenage protagonist at the center." —Booklist, starred review
"Full-color illustrations are appropriately wild, jagged, and threatening. Readers will be demanding the next installment as they close this one." —Kirkus
"It's clear from the movie-ready visual images that the illustrator is primarily an anima- tor, and the panels are a worthy match for the clever, memorable text."—Bulletin of the Center for Children's Books
"This first entry in a creepy, addictively suspenseful graphic novel series makes for compulsive reading." —Horn Book