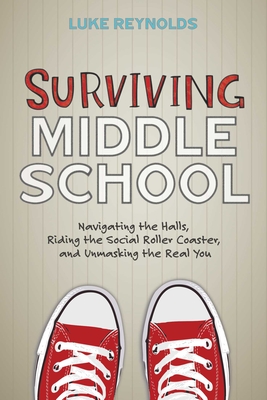 Surviving Middle School: Navigating the Halls, Riding the Social Roller Coaster, and Unmasking the Real You
Publication Date:
July 5th, 2016
Publisher:
Aladdin/Beyond Words
Usually Ships in 1 to 5 Days
Description
In this hilarious guide full of honest, real-life experiences, veteran teacher Luke Reynolds skillfully and humorously shows kids how to not only survive, but thrive and even enjoy the wild adventure that is middle school.
Middle grade series like The Diary of a Wimpy Kid and Dork Diaries bring an authentic voice and vision to fiction about middle schoolers. Now, for the first time a nonfiction guide to middle school offers that same funny and relatable voice, while skillfully teaching life lessons to not just help kids find their footing during the tough years between elementary and high school, but to find the joy in their new adventures and challenges.
Author and teacher Luke Reynolds uses irreverent humor, genuine affection for middle schoolers, and authenticity that bubbles over as he ties real-life experiences from his own time in middle school to the experiences he has from his many years as a teacher.
Covering topics like bullying, peer pressure, grades, dealing with difficult parents, and love and romance, this rare book reaches kids at a deeper level during an age when they are often considered too young to appreciate it. Readers will learn to find their own voice, begin to explore their genuine identity, and definitely laugh out loud along the way.
Praise for Surviving Middle School: Navigating the Halls, Riding the Social Roller Coaster, and Unmasking the Real You
With age-appropriate humor and insight, veteran teacher Reynolds offers advice aimed at assisting young people as they trek through the minefield that is middle school. Honest in tone but with an acute sense of the ridiculous (the trope of garlic-bread-stealing space gnomes is overused), the short chapters contain stories from the author's own middle school experience or his imagination, a narrative approach that will appeal to fans of books such as Diary of a Wimpy Kid. Short chapters on bullying, peer pressure, grades, dealing with parents and teachers, and more are sprinkled with accessible and pertinent quotes and end with exercises to try. The topic of sex is excluded, gearing the book to younger readers—especially those who enjoy scatological goofiness. Reynolds takes on the media, imagining a fictitious Mr. Buttmuncher at its head, to encourage kids to think for themselves. While playful black-and-white cartoon illustrations and doodles add to the zaniness, the messages are worthy and clear: be yourself; practice empathy; work hard; hug your parents. A list of recommended books and movies is appended. For those approaching or in the scrum of middle school, a positive reminder that the perfect middle school experience does not exist. (Nonfiction. 10-14)
— Kirkus Reviews
Reynolds uses humor and oddball metaphors to make the advice he delivers to new, beleaguered, or confused middle-schoolers palatable. The point of school, he explains to his young audience, "is to learn how to use your voice to share your ideas, to solve problems, and to work with other[s]." One's inner joy and potential for personal growth he sees as a loaf of yummy garlic bread, which is continually under threat from an army of voracious "space gnomes" (i.e., "bullies, grades, competitions, insecurity, and fear"). Everyone also has dense stores of empathy and determination to draw on when challenges arise. As a middle-school teacher, he offers plenty of classroom anecdotes, but his focus is on broadly encouraging self-knowledge and self-confidence, rather than tackling specific issues or scenarios. Typical of such guides, though, he does include lists, writing exercises, and inspirational quotes as well as selected films, websites, and novels. Silly stock cartoons further lighten the already positive message and overall tone. — John Peters
— Booklist
Adopting a jokey but understanding tone, Reynolds uses his own past experiences and those of the students he currently teaches to commiserate with readers who are dealing with insecurity, the pressure to conform, grade stresses, and other difficulties; throughout, he urges them to maintain their individuality and accept that there will be good days and bad. While some of Reynolds's metaphors can be goofy to the point of nonsensical (he compares negative external pressures to "space gnomes who are only after one thing: garlic bread," and hard-to-scrub-away "caked dirt" represents inner determination), his compassion for those in the trenches is never in question, and readers in need will find plenty of encouragement in these pages. Ages 10–14.
— Publishers Weekly
Middle School was a nightmare for Luke Reynolds. He recounts the experience at the beginning of this book. Eventually, he decided to go back and face his demonic Middle School memories, this time with ammunition. He had become a teacher. So he went back to Middle School and worked to apply what he had learned to make Middle School a little bit easier for his students. He told them to believe in themselves and to stop trying to look like a poster in the mall. He told them to ask crazy questions and remember that they're teachers were human. He told them to risk being themselves. Now he's sharing the insight that he gained from all of it in this book, written—not about—but to Middle Schoolers. He explains about refrigerated brains and the lies of love, and asks them to hug their parents. His words are humorous, compassionate, and dense with authentic wisdom (comparison is an elite secret weapon of the space gnomes). He laces his guidance with dynamic spot illustrations, his exceptional love of garlic bread, and quotes from the likes of Teddy Roosevelt, Ralph Waldo Emerson, Ernest Hemingway, Helen Keller, Pablo Picasso, Arthur Ashe, and Eleanor Roosevelt. Each lesson begins with a narrative about one of his students as an example of  the problem he's discussing and ends with a simple yet effective exercise to get the reader in touch with the solutions he is suggesting. When you point it out to customers, suggest that instead of reading it themselves, they let their child read it and tell them what it says.
— Retailing Insight
Gr 5-8–Former middle school teacher Reynolds has turned his love of garlic bread into an excellent and engaging treatise on life aimed at the "Wimpy Kid" generation. He begins with a hilariously rose-colored recounting of his own first day at middle school. Traitorously truthful members of his family chime in with the real story and allow readers to sympathize and relate. Each chapter is dedicated to a serious issue facing middle school students. Reynolds uses age-appropriate metaphors to get his message across, including space gnomes (forces fighting against kids) and garlic bread (adolescents' true inner selves). The author covers issues such as insecurity and self-confidence and provides a simple list of "stuff" to help navigate life successfully. Sprinkled throughout the book are pertinent quotes by famous people designed to inspire. Goofy black-and-white illustrations add to the kid-appeal. VERDICT Thoughtful, humorous, and filled with practical advice and insight, this book is recommended for all libraries.
— Cindy Wall, Southington Library & Museum, CT