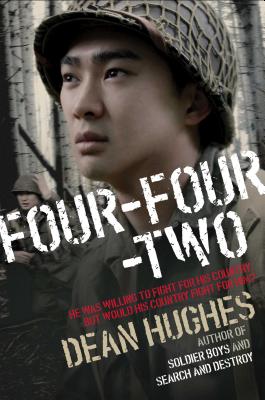 Four-Four-Two
Publication Date:
November 8th, 2016
Publisher:
Atheneum Books for Young Readers
Description
From the author of Soldier Boys and Search and Destroy comes a thought-provoking, action-packed page-turner based on the little-known history of the Japanese Americans who fought with the 442nd Regimental Combat Team during World War II.
Yuki Nakahara is an American.
But it's the start of World War II, and America doesn't see it that way. Like many other Japanese Americans, Yuki and his family have been forced into an internment camp in the Utah desert. But Yuki isn't willing to sit back and accept this injustice—it's his country too, and he's going to prove it by enlisting in the army to fight for the Allies.
When Yuki and his friend Shig ship out, they aren't prepared for the experiences they'll encounter as members of the "Four-Four-Two," a segregated regiment made up entirely of Japanese-American soldiers. Before Yuki returns home—if he returns home—he'll come face to face with persistent prejudices, grueling combat he never imagined, and friendships deeper than he knew possible.
Praise for Four-Four-Two
* "The story of two young Japanese-American men who enlist in the 442nd Regiment, a segregated unit of Japanese-American soldiers and white officers that fought in the European Theater.... Hughes sends these men through the wringer. They endure foot rot and the stress of taking the next hill (which is worse is up for grabs), and they also grapple with the consequences: how does one reconcile shooting a kid, even if he's an enemy soldier? Yuki reflects that "what he and Shig were doing—and the Germans, too—was brutal, disgusting," and he would "spend his life trying to remove all this ugliness from his head and his hands." Throughout, Hughes never shies from the institutionalized bigotry that put these Americans of Japanese ancestry into harm's way more than their fair share of times. Nuanced and riveting in equal parts."
— Kirkus Reviews, September 2016, *STARRED REVIEW*
"Yuki Nakahara is American. He was born in California, wears jeans, and has never even visited another country—but at the start of World War II he becomes aware that other Americans see him as a foreign enemy. His family is one of the thousands of Japanese American citizens arrested and forcibly transferred to internment camps in the rural desert. Although depressed about their situation, Yuki and friend Shig decide to join the army to fight for their country and to prove once and for all that they are loyal to the United States. As the war wages on, however, Yuki realizes that he must respect himself and where he came from, and that neither war nor changing others' minds is as easy as he had imagined. Although this is a work of historical fiction, the author's thorough research about the boys of the 100th/442nd Regimental Combat Team and his meticulous descriptions of battle scenes bring the story to life without boring readers familiar or unfamiliar with the military lifestyle. The strong emotions evoked by the vivid details of battle and the other realities of war make this work sometimes difficult to read, but the excitement and compassion will keep even the most hesitant readers turning the pages. Those who follow the news will find connections between Yuki's plight and current events. VERDICT: A solid purchase for collections looking to entice reluctant readers and those where historical fiction or war novels are popular."
— School Library Journal, October 2016
"Events, characters, and dialogue create an indelible sense of time and place.... Yuki emerges as a true hero during this dark period of American history."
— Horn Book Magazine
* "Hughes' writing effectively evokes the horrors of war and the internal conflict of young men fighting for a country that has treated them unjustly. The challenges of Yuki's reentry into the States are also well conveyed: the guilt of survival, the difficulty of communicating the war experience to civilians, and the continued widespread racism.... This is historical fiction at its finest—immersive and inspirational."
— Booklist, November 2016, *STARRED REVIEW*
"Wartime hysteria leads hatred and racism to rear their ugly heads on high schooler Yuki Nakahara and other Americans of Japanese descent in December of 1941.... This historical novel accurately captures not only the disgraceful plight of Japanese Americans due to Executive Order 9066, but also the harsh realities of the war and the struggles to maintain a sense of humanity. The novel is well-written and fast-paced, easily holding the reader's attention. It offers a lesson that might be relevant today in light of the current U.S. immigration controversy.... HIGHLY RECOMMENDED."
— School Library Connection, January/February 2017, Highly Recommended
"Dean Hughes exhibits his expertise in telling the tales of war.... Hughes hides nothing as he speaks the truth of war that no one but a soldier can rightfully comprehend. The fear is apparent in every page, as well as the underlying reality that although the government is the body deciding to engage in wars, men are the ones fighting them. The action in every page kept me reading nonstop, as Hughes pulled no punches in revealing the gut-wrenching pain of war...each word is packed with an incomprehensible amount of meaning. History and masterful storytelling build a narrative unlike all, as readers battle alongside the soldiers in FOUR-FOUR-TWO."
— TeenReads.com, December 2016