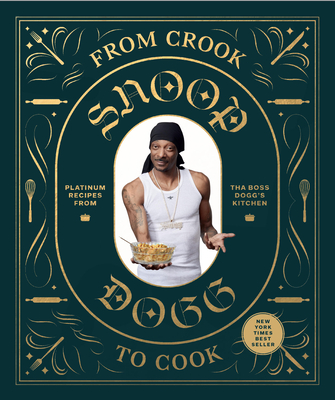 From Crook to Cook: Platinum Recipes from Tha Boss Dogg's Kitchen
Publication Date:
October 23rd, 2018
Publisher:
Chronicle Books
Usually Ships in 1 to 5 Days
Description
More than 1 million copies sold!
Looking for cookbooks with a little more personality? Welcome to tha Boss Dogg's Kitchen.
The first cookbook and recipe book from Tha Dogg, From Crook to Cook: Platinum Recipes from Tha Boss Dogg's Kitchen. You've seen Snoop Dogg work his culinary magic on VH1's Emmy-nominated Martha and Snoop's Potluck Dinner Party, and now Tha Dogg's up in your kitchen ... with his first cookbook.
Recipe book that delivers 50 recipes straight from Snoop's own collection: Snoop's cookbook features OG soul food cookbook staples like
Baked Mac & Cheese
Fried Bologna Sandwiches with Chips
Shrimp Po' Boy
Plus new takes on classic weeknight faves like Soft Flour Tacos and Easy Orange Chicken.
And it don't stop ... Snoop's giving a taste of the high life with remixes on upper echelon fare such as Lobster Thermidor and Filet Mignon. But we gotta keep it G with those favorite munchies too, ya know? From chewy Starbursts to those glorious Frito BBQ Twists, you should have an arsenal of snacks that'll satisfy. And of course, no party is complete without that Gin and Juice and other platinum ways to entertain.
CELEBRITY COOKBOOKS: If you're a fan of celebrity books and cookbooks such as Bob's Burgers, Magnolia Table Cookbook, Margaritaville cookbook, Thug Kitchen cookbook, or the Gilmore Girls Eat Like a Gilmore; the Snoop Dogg cookbook has got you covered – complete with epic stories and behind-the-scenes photos that bring his masterpieces to life.
SOUL FOOD DONE RIGHT: One thing for sure two things for certain: A Dogg's Gotta Eat. And Tha Boss Dogg is gonna show you how. These recipes are Snoop's personal hits, straight outta his kitchen and never before shared.
Praise for From Crook to Cook: Platinum Recipes from Tha Boss Dogg's Kitchen
"It's not just nostalgia for mac and cheese and fried bologna sandwiches, although recipes for both are in there. The book is full of recipes that most people could cook at home, and be happy they did. Peanut butter chocolate chip cookies? Check. A chopped salad? Yes. Dijon salmon? Uh-huh. Faux-tisserie chicken and vegetables? Here for it." - Quartz