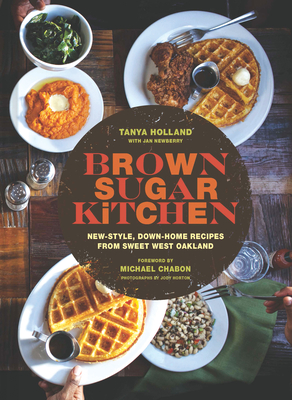 Brown Sugar Kitchen: New-Style, Down-Home Recipes from Sweet West Oakland
Publication Date:
September 9th, 2014
Publisher:
Chronicle Books
Usually Ships in 1 to 5 Days
Description
Acclaimed chef, restaurateur, and podcaster Tanya Holland shares recipes and stories from her celebrated Bay Area soul-food outpost that put West Oakland on the culinary map.
Much more than a restaurant, Brown Sugar Kitchen was, for fifteen years, a community gathering spot, a place to fill the belly, and the beating heart of West Oakland, a storied postindustrial neighborhood across the bay from San Francisco.
Since founding the original location, trailblazer Tonya Holland went on to open several dining destination hot spots, appear on Bravo's Top Chef, helm a show on OWN: Oprah Winfrey Network, host a podcast, and become a member of the Board of Trustees of the James Beard Foundation.
In Brown Sugar Kitchen, the cookbook, Holland shares 86 recipes for re-creating the restaurant's favorites at home, from a thick Shrimp Gumbo to celebrated Macaroni & Cheese to a show-stopping Caramel Layer Cake with Brown Butter–Caramel Frosting. Soul-food classics get a modern spin in the case of B-Side BBQ Braised Smoked Tofu with Roasted Eggplant and a side of Roasted Green Beans with Sesame-Seed Dressing. Her interpretations also star locally grown, seasonal produce in crisp, creative salads such as Romaine with Spring Vegetables & Cucumber-Buttermilk Dressing and Summer Squash Succotash.
Rich visual storytelling reveals the food and the people that made and make West Oakland what it is today. Straightforward, unfussy but inspired, these are recipes home cooks will turn to again and again.
SOUL FOOD COOKBOOK: Brown Sugar Kitchen truly captures the sense—and flavor—of a richly textured and delicious place. With 86 mouthwatering recipes, there's something for everyone in this beautifully crafted celebration of soul food.
BELOVED AND CELEBRATED: Chef Alice Waters proclaims this book, with "robust, soulful recipes using seasonal and local ingredients" to be "a wonderful reflection of the spirit [Holland] has fostered at Brown Sugar Kitchen." A foreword by Pulitzer Prize-winning author Michael Chabon puts a literary local spin on the unique delights of Holland's offerings.
OUTSTANDING GIFT FOR FOOD LOVERS: For anyone who loves to cook, loves to eat, or loves to celebrate the joys of authentic soul food, this is a gift to treasure. Perfect for birthday, housewarming, host/hostess, or holiday giving.
Perfect for:
Home cooks, cookbook collectors, and soul food aficionados
Fans of Tonya Holland
Devotees of the San Francisco Bay Area food scene
Shelve alongside Kardea Brown's The Way Home, Sweet Home Café Cookbook, The Twisted Soul Cookbook, and Black Girl Baking
Praise for Brown Sugar Kitchen: New-Style, Down-Home Recipes from Sweet West Oakland
"Tanya Holland has made a beautiful commitment to West Oakland, creat­ing a vibrant, joyful restaurant that is a pillar of the local community. With robust, soulful recipes using seasonal and local ingredients, this book is a wonderful reflection of the spirit she has fostered at Brown Sugar Kitchen." - Alice Waters
"Tanya Holland and her Brown Sugar Kitchen represent everything that is great about Oakland: diversity, collegiality, rugged entrepreneurialism, and soulful authenticity. In her restaurant and this cookbook, she has captured something deliciously simple yet extraordinarily powerful: the food that embodies our shared American roots, and its power to bring us together." - Aisha Tyler, comedienne, actress, and author of Self-Inflicted Wounds
"Tanya's come-hither cookbook inspired both the armchair traveler and the armchair chowhound in me. Reading it, I imagined the pleasure of liv­ing in West Oakland, having a regular seat of my own at Brown Sugar's counter, and ordering up my favorite dishes without even having to look at the menu. With this book in hand, I know that every choice is a winner." - Sara Moulton, host of Sara's Weeknight Meals on public television
"To be outside the South at the Brown Sugar Kitchen in Oakland, California eating shrimp n' grits with a side of cornbread and a glass of lemonade is priceless!" - Taj Mahal