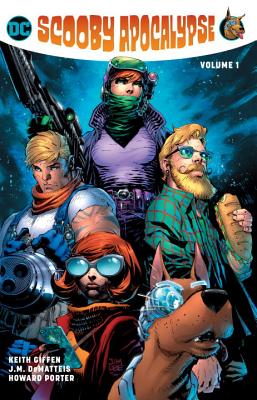 Scooby Apocalypse Vol. 1
Publication Date:
February 7th, 2017
Description
Fred. Daphne. Velma. Shaggy. Scooby-Doo. Roaming the globe in their lime-green Mystery Machine, they've solved countless crimes and debunked dozens of sketchy supernatural shenanigans.
 
But what if the horror was real?
 
Something terrible has transformed our world, turning millions of people into mindless zombie hordes. And only five people—well, four people and one mangy mutt—have the smarts, the skills and the sheer crazy courage to stare down doomsday.
 
Can these pesky kids and their canine companion—using every incredible contraption in their arsenal—defeat the evil that has overwhelmed planet Earth? We've got only one thing to say about that: ZOINKS!
 From comics mastermind Jim Lee and the superstar creative team of Keith Giffen (JUSTICE LEAGUE 3001), J.M. DeMatteis (Justice League Dark) and Howard Porter (JLA) comes Scooby Apocalypse, a whole new spin on the most beloved paranormal investigators in history. Get ready to give Scooby Snacks a whole new meaning! Scooby Apocalypse Volume 1 collects issues #1-6.
Praise for Scooby Apocalypse Vol. 1
"With out-there costumes and psychedelic greens that slide into electric blues, they create a world that looks as 'groovy' as it does near-future." —Comic Book Resources
  
"Howard Porter slinging some of his best ink since the early days of his run on JLA." — Newsarama