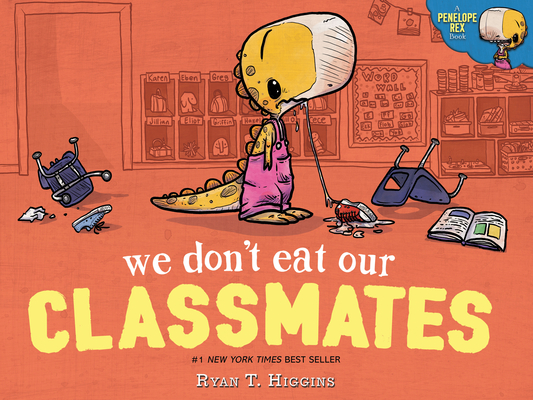 We Don't Eat Our Classmates: A Penelope Rex Book
Publication Date:
June 19th, 2018
Publisher:
Disney Hyperion
Usually Ships in 1 to 5 Days
Higgins is back with a pitch-perfect tale of first-day jitters and unexpected empathy. Penelope, a pink-overall-clad T-rex, is exceptionally nervous about her first day of school. She's so nervous that, after learning her classmates are all children, she eats them. Delicious! But Mrs. Noodleman is not amused. It isn't until someone tries to make Penelope into a snack that she begins to understand just how her classmates feel. Penelope's growing awareness of her classmates' feelings is both adorable and relatable. Higgins' charming illustrations and use of humor make Penelope's story ideal for younger readers, especially as they transition into new experiences and social situations.
Summer 2018 Kids Indie Next List
Praise for We Don't Eat Our Classmates: A Penelope Rex Book
"[T]he bright colors and deceptively adorable dinosaurs make this a fun read rather than a scary one, with a hidden lesson about boundaries. Too much fun for a single read."—Booklist
"For the times when students struggle to understand one another and when impulse control needs a little strengthening, pair this winner with Mo Willems's Edwina, the Dinosaur Who Didn't Know She Was Extinct. An appealing read-aloud selection."—SLJ
"Higgins ("Mother Bruce") knows how to make big, scary animals seem vulnerable, lovable and funny, adding a strategic touch of gross-out when our heroine spits her victims back up."—New York Times Book Reviews
"Higgins once again delivers sassy dialogue, flawless comic pacing, and faith in the ability of children to learn and grow."—Publishers Weekly (starred review)
"Higgins' illustrations combine scanned textures, graphite, ink, and Photoshop elements, and they feature a wonderfully diverse class that includes a girl in hijab, a tyke in glasses, and a boy wearing a kippah amid classmates of varying skin and hair colors and body types. Fans of macabre, tongue-in-cheek humor (and twist endings!) will enjoy time spent with Penelope."—Kirkus Reviews (starred review)
PRAISE FOR BE QUIET!
—Junior Library Guild Selection
PRAISE FOR BE QUIET!
—Kids Indie Next List