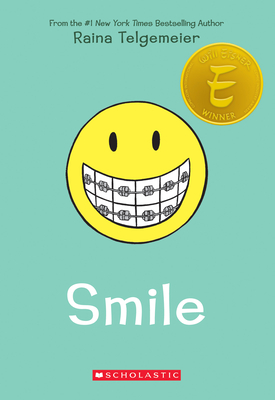 Smile: A Graphic Novel
Publication Date:
November 10th, 2020
Usually Ships in 1 to 5 Days
Description
Raina Telgemeier's #1 New York Times bestselling, Eisner Award-winning graphic memoir based on her childhood!
Raina just wants to be a normal sixth grader. But one night after Girl Scouts she trips and falls, severely injuring her two front teeth. What follows is a long and frustrating journey with on-again, off-again braces, surgery, embarrassing headgear, and even a retainer with fake teeth attached. And on top of all that, there's still more to deal with: a major earthquake, boy confusion, and friends who turn out to be not so friendly.
Praise for Smile: A Graphic Novel
Praise for Smile:#1 New York Times BestsellerWill Eisner Comic Industry Award WinnerBoston Globe-Horn Book Honor Book"Irresistible, funny, and touching." -- Kirkus Reviews"One of the most widely loved kids' graphic novels in recent history." -- Booklist"It hits home partly because there is nothing else out there like it." -- The New York Times Book ReviewPraise for Sisters:#1 New York Times BestsellerWill Eisner Comic Industry Award Winner* "A wonderfully charming tale of family and sisters that anyone can bond with." -- Kirkus Reviews, starred review* "Poignant and laugh-out-loud funny." -- Publishers Weekly, starred review* "Utterly relatable for anyone with siblings." -- School Library Journal, starred reviewPraise for Guts:#1 USA Today Bestseller#1 New York Times Bestseller* "The story both normalizes therapy and shows a child developing useful coping mechanisms for anxiety in a way that will reassure, even inspire, readers." -- Publishers Weekly, starred review* "A must." -- School Library Journal, starred review"A compassionate and accessible look at one girl's struggles with anxiety." -- The Bulletin of the Center for Children's BooksPraise for Drama:#1 New York Times BestsellerAn ALA Stonewall Honor Book* "Telgemeier is prodigiously talented at telling cheerful stories with realistic portrayals of middle-school characters." -- Booklist, starred review* "Pitch-perfect." -- Kirkus Reviews, starred review* "Another dead-on look at the confusing world of middle school." -- Publishers Weekly, starred review* "An entertaining and enlightening read." -- School Library Journal, starred reviewPraise for Ghosts:#1 New York Times Bestseller* "Telgemeier has her finger on the pulse of middle-grade readers, and this might be her best yet." -- Booklist, starred review* "Superior visual storytelling." -- Kirkus Reviews, starred review* "Telgemeier nudges readers toward the edge of their comfort zone, but she never leaves them alone there." -- Publishers Weekly, starred review
Praise for Smile:#1 New York Times BestsellerWill Eisner Comic Industry Award WinnerBoston Globe-Horn Book Honor Book"Irresistible, funny, and touching." -- Kirkus Reviews"One of the most widely loved kids' graphic novels in recent history." -- Booklist"It hits home partly because there is nothing else out there like it." -- The New York Times Book ReviewPraise for Sisters:#1 New York Times BestsellerWill Eisner Comic Industry Award Winner* "A wonderfully charming tale of family and sisters that anyone can bond with." -- Kirkus Reviews, starred review* "Poignant and laugh-out-loud funny." -- Publishers Weekly, starred review* "Utterly relatable for anyone with siblings." -- School Library Journal, starred reviewPraise for Guts:#1 USA Today Bestseller#1 New York Times Bestseller* "The story both normalizes therapy and shows a child developing useful coping mechanisms for anxiety in a way that will reassure, even inspire, readers." -- Publishers Weekly, starred review* "A must." -- School Library Journal, starred review"A compassionate and accessible look at one girl's struggles with anxiety." -- The Bulletin of the Center for Children's BooksPraise for Drama:#1 New York Times BestsellerAn ALA Stonewall Honor Book* "Telgemeier is prodigiously talented at telling cheerful stories with realistic portrayals of middle-school characters." -- Booklist, starred review* "Pitch-perfect." -- Kirkus Reviews, starred review* "Another dead-on look at the confusing world of middle school." -- Publishers Weekly, starred review* "An entertaining and enlightening read." -- School Library Journal, starred reviewPraise for Ghosts:#1 New York Times Bestseller* "Telgemeier has her finger on the pulse of middle-grade readers, and this might be her best yet." -- Booklist, starred review* "Superior visual storytelling." -- Kirkus Reviews, starred review* "Telgemeier nudges readers toward the edge of their comfort zone, but she never leaves them alone there." -- Publishers Weekly, starred review