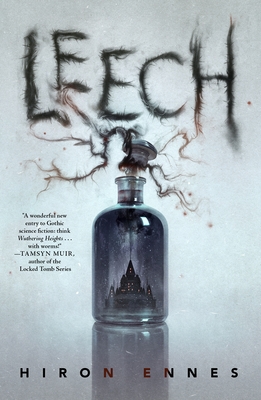 Leech
Publication Date:
August 8th, 2023
Usually Ships in 1 to 5 Days
This book slowly builds your sense of vertigo by combining body horror and gothic family drama. To find oneself empathizing with a parasite only heightens the sense of dis-ease. I'm still reeling.
October 2022 Indie Next List
Description
"[Leech] is The Thing meets The Alienist . . . beautifully written and so strangely humane . . . I will follow this writer anywhere going forward." —Gillian Flynn, New York Times bestselling author of Gone Girl
A surreal and horrifying debut, Hiron Ennes's Leech defies our understanding of identity, heredity, and bodily autonomy.
The RUSA Best Horror Novel of 2023!

Finalist for the British Fantasy Newcomer Award!

An October "Great Reads" Indie Next Pick!
A Wall Street Journal Best Book!
"A wonderful new entry to Gothic science fiction, impeccably clever and atmospheric. Think Wuthering Heights... with worms!"—Tamsyn Muir
MEET THE CURE FOR THE HUMAN DISEASE
In an isolated chateau, as far north as north goes, the baron's doctor has died. The doctor's replacement has a mystery to solve: discovering how the Institute lost track of one of its many bodies.
For hundreds of years the Interprovincial Medical Institute has grown by taking root in young minds and shaping them into doctors, replacing every human practitioner of medicine. The Institute is here to help humanity, to cure and to cut, to cradle and protect the species from the apocalyptic horrors their ancestors unleashed.
In the frozen north, the Institute's body will discover a competitor for its rung at the top of the evolutionary ladder. A parasite is spreading through the baron's castle, already a dark pit of secrets, lies, violence, and fear. The two will make war on the battlefield of the body. Whichever wins, humanity will lose again.
Praise for Leech
The RUSA Best Horror Novel of 2023!
Finalist for the Endeavour Award!
"A wonderful new entry to Gothic science fiction, impeccably clever and atmospheric. Think Wuthering Heights... with worms!" —Tamsyn Muir
"So unique and utterly assured, I will follow this writer anywhere going forward." —Gillian Flynn, New York Times bestselling author of Gone Girl
"Emotionally complex, wildly inventive, and full of squirming terror... This is a must-read for readers looking for something new from the horror genre." —Publishers Weekly, starred review
"[A] fascinating jigsaw puzzle... [that] only gets more intriguing as the novel goes on... Fans of gothic horror will devour it." —Booklist, starred review
"The fascinating world and original narrator that Ennes creates in their debut produce a sublime gothic sci-fi tale that grows into a story greater than the sum of its parts." —Library Journal, starred review
"Leech is perfect for readers who wished that Wuthering Heights had been just a little more like Jeff VanderMeer's Annihilation." —BookPage, starred review
"Pure Gothic horror . . . [Leech] is a masterpiece of complex morality and uncertain identity, lurking within an intriguing puzzle" —The Wall Street Journal

"Leech uses language with startling acrobatism, creating a world steeped with more secrets than the human body can contain." —Cassandra Khaw
"Worldbuilding both subtle and surprising. Killer prose. Grotesque biology like I've never seen. If you've ever wondered what would happen if David Cronenberg and Edgar Allen Poe bumped into each other at the same parasitological conference, here's your answer." —Peter Watts
"Startlingly original, yet eerily familiar, with Leech, Ennes spins classic Gothic horror and fascinating science fiction into a creation that is disturbing, horrifying, and impossible to turn away from." —Brom
"This book managed to surprise me, and that's not easy for this jaded reader. I read everything, therefore I thought I had seen everything. Leech isn't like anything I've read before." —Tade Thompson, author of Rosewater
"A tense, disturbing work of Gothic horror that embraces difficult themes of power, abuse, agency, and raw survival in an unforgettably apocalyptic setting. Gory, shocking, raw — and utterly humane." —Kameron Hurley
"A strange and fascinating far-future world is gradually revealed in this accomplished combination of gothic horror and sci-fi." —The Guardian
"Leech is wonderful, with a truly unique protagonist, a gooey, squicky post-apocalyptic setting, and a dose of Gormenghast gothic. Perfect for fans of Gideon the Ninth and The Traitor Baru Cormorant." —Django Wexler
"A razor-sharp balance between the Gothic and the weird, Leech is a startling surprise. A unique narrator, a complex and twisted world, toe-curling horror — I wanted to keep reading." —World Fantasy Award-winning author G. V. Anderson
"What a unique book! Surreal body horror, surprising turns, and staggering ideas — all woven together by beautiful writing. This debut novel is one to remember." —Tim Lebbon