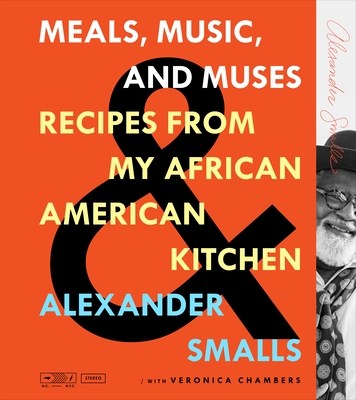 Meals, Music, and Muses: Recipes from My African American Kitchen
Publication Date:
February 25th, 2020
Publisher:
Flatiron Books
Description
Iconic chef and world-renowned opera singer Alexander Smalls marries two of his greatest passions—food and music—in Meals, Music, and Muses. More than just a cookbook, Smalls takes readers on a delicious journey through the South to examine the food that has shaped the region. Each chapter is named for a type of music to help readers understand the spirit that animates these recipes.
Filled with classic Southern recipes and twists on old favorites, this cookbook includes starters such as Hoppin' John Cakes with Sweet Pepper Remoulade and Carolina Bourbon Barbecue Shrimp and Okra Skewers, and main dishes like Roast Quail in Bourbon Cream Sauce and Prime Rib Roast with Crawfish Onion Gravy.
Complete with anecdotes of Smalls's childhood in the Low Country and examinations of Southern musical tradition, Meals, Music, and Muses is a heritage cookbook in the tradition of Edna Lewis's A Taste of Country Cooking.
Praise for Meals, Music, and Muses: Recipes from My African American Kitchen
Named one of the Best Books of 2020 by Esquire
Named one of the 11 New Cookbooks Worth Buying, Even in Quarantine by the New York Times
Named one of Publishers Weekly's Best Lifestyle Books of 2020
"This eclectic cookbook provides classic Southern recipes with extra flair thanks to Smalls's affinity for music. An internationally recognized opera singer, he elevates the work by naming each chapter after a type of music and diving into the details of his South Carolina childhood and how it influenced his cooking style." - Publishers Weekly
"Chef Alexander Smalls began his life in the South Carolina low country, but has traveled the world as a world class opera singer, opened some of Americas finest restaurants, and has the awards to prove it. His new cookbook, Meals, Music, and Muses: Recipes from My African American Kitchen bridges his two passions and presents them as binding forces of culture and history." - Deep South Dining
"Alexander Smalls might be the only person who's won a Grammy, a Tony, and a James Beard Award. His most recent book, Meals, Music, and Muses: Recipes from My African American Kitchen, bridges his celebrated careers as both an opera singer and a restaurateur while telling the story of Southern food through music. It's a rich and layered read, with each chapter paying tribute to a genre of music and a genre of food that, as Smalls writes in the book's introduction, 'are rooted in a knotty lineage that connects West Africa and Western Europe.'" - Taste
"Alexander Smalls has owned, conceptualized, and helmed some of New York's most iconic African American restaurants. Now, he follows up the James Beard award-winning Between Harlem and Heaven with Meals, Music, and Muses, a look at his world glimpsed through the lenses of music, food, culture, and history. It is a must-read journey through a life well lived and in recipe and reminiscence details the musical forms learned, the friends and family who instructed, and the foods shared along the way." - Jessica B. Harris
"If wine is bottled poetry, and jazz is brown sugar sprinkled in your ear, then Meals, Music, and Muses is a smorgasbord of fine words and sounds, a delicious symphony of haute cuisine that'll make you wanna kiss your momma, then thank the ancestors for making a way out of no way—for Hoppin' John Cakes and Grits and Sage Sausage Gravy and Frogmore Stew and all the recipes Alexander Smalls has reimagined so elegantly." - Kwame Alexander
"I had the great honor of being a guest at one of Alexander's famous Sunday brunches in his beautiful brownstone in Harlem. The food was unbelievably delicious! It was a magical afternoon that I will never forget." - Tina Knowles-Lawson
"In Meals, Music, and Muses, Alexander creates a lyrical culinary anthology of our lives. A symphonic composition full of stories, contemporary southern recipes that celebrates the food and musical genres that influenced the history of America… He sets the table in a unique way from jazz to blues to divas on a plate…This is not your mother's cookbook…" - Dee Dee Bridgewater