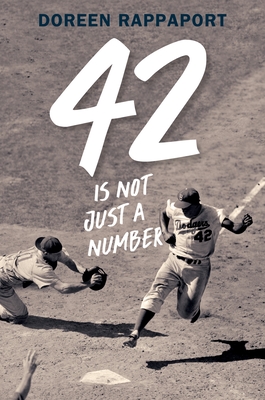 42 Is Not Just a Number: The Odyssey of Jackie Robinson, American Hero
Publication Date:
September 5th, 2017
Description
An eye-opening look at the life and legacy of Jackie Robinson, the man who broke the color barrier in Major League Baseball and became an American hero.
Baseball, basketball, football — no matter the game, Jackie Robinson excelled. His talents would have easily landed another man a career in pro sports, but such opportunities were closed to athletes like Jackie for one reason: his skin was the wrong color. Settling for playing baseball in the Negro Leagues, Jackie chafed at the inability to prove himself where it mattered most: the major leagues. Then in 1946, Branch Rickey, manager of the Brooklyn Dodgers, recruited Jackie Robinson. Jackie faced cruel and sometimes violent hatred and discrimination, but he proved himself again and again, exhibiting courage, determination, restraint, and a phenomenal ability to play the game. In this compelling biography, award-winning author Doreen Rappaport chronicles the extraordinary life of Jackie Robinson and how his achievements won over — and changed — a segregated nation.
Praise for 42 Is Not Just a Number: The Odyssey of Jackie Robinson, American Hero
Jackie Robinson's life has inspired a number of biographies for kids, and Rappaport adds a well-rounded and nuanced portrayal...A discussion guide is planned and may help adults and younger readers process the prejudice and hate that Robinson endured, particularly in his childhood and early career. An excellent biography that humanizes its legendary subject for middle schoolers.
—School Library Journal
Rappaport uses personal vignettes to bring to vivid life the story of the first man to break the color barrier in Major League Baseball...Drawing from Robinson's autobiography and other sources, Rappaport explores some of the seminal events in Robinson's life and the ballplayer's feelings about them, ably profiling a groundbreaking athlete and "one-person civil rights movement."
—Publishers Weekly
Rappaport offers an engaging account of the man's life and presents enough background information about American racism during the 1930s and 1940s to help young readers understand the depth of his courage and the magnitude of his achievement as "a one-person civil rights movement."
—Booklist
Brevity and accessibility...don't mean lightweight coverage: Rappaport slams down hard on the vicious opponents and rival fans...This is an excellent companion title to his daughter Sharon Robinson's Promises to Keep (BCCB 4/04).
—Bulletin of the Center for Children's Books
In Doreen Rappaport's 42 Is Not Just a Number, Jackie Robinson shows the world his incredible skills and character.
—HuffPost
This skillfully written biography uses anecdotes and well-chosen details to draw readers into the life of an extraordinary athlete and a courageous American who helped transform his country and his sport.
—Providence Journal
Jackie Robinson (1919–1972), one of the best baseball players in history, is most remembered as the man who broke the color barrier in major league baseball when he took the field as first baseman for the Brooklyn Dodgers on April 15, 1947. This biography covers Robinson's early years, beginning when Jackie was eight years old and one of five siblings being raised by his mother in California.
—Literacy Daily