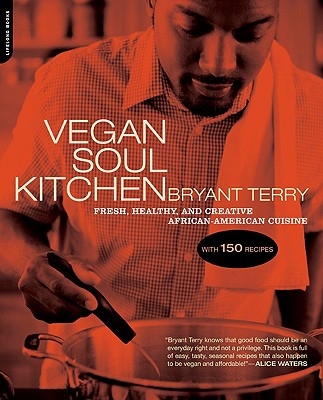 Vegan Soul Kitchen: Fresh, Healthy, and Creative African-American Cuisine
Publication Date:
March 3rd, 2009
Publisher:
Da Capo Lifelong Books
Usually Ships in 1 to 5 Days
Description
James Beard Award-winning chef Bryant Terry's first cookbook, a vegan homage to Southern, African American, and Afro-Caribbean food
One of the foremost voices in food activism and justice, Bryant Terry brings soul food back to its roots with plant-based, farm-to-table, real food recipes that leave out heavy salt and refined sugar, "bad" fats, and unhealthy cooking techniques, and leave in the down-home flavor. Vegan Soul Kitchen recipes use fresh, whole, healthy ingredients and cooking methods with a focus on local, seasonal, sustainably raised food. Bryant developed these vegan recipes through the prism of the African Diaspora-cutting, pasting, reworking, and remixing African, Caribbean, African-American, Native American, and European staples, cooking techniques, and distinctive dishes to create something familiar, comforting, and deliciously unique. Reinterpreting popular dishes from African and Caribbean countries as well as his favorite childhood dishes, Named one of the best vegetarian/vegan cookbooks of the last 25 years by Cooking Light Magazine, Vegan Soul Kitchen reinvents African-American and Southern cuisine -- capitalizing on the complex flavors of the tradition, without the animal products.
With recipes for: Double Mustard Greens & Roasted Yam Soup; Cajun-Creole-Spiced Tempeh Pieces with Creamy Grits; Caramelized Grapefruit, Avocado, and Watercress Salad with Grapefruit Vinaigrette; and Sweet Cornmeal-Coconut Butter Drop Biscuits and many more.
Praise for Vegan Soul Kitchen: Fresh, Healthy, and Creative African-American Cuisine
Winner of Treehugger's Green Award for Best Cookbook of 2010 (4/9/10)
Named a "Top Ten Vegan Cookbook" by VegNews, July/August 2010
Alice Waters
"Bryant Terry knows that good food should be an everyday right and not a privilege. This book is full of easy, tasty, seasonal recipes that also happen to be vegan and affordable!" John Robbins, author The Food Revolution and Diet for a New America
""Do you think a commitment to healthy eating means enduring bland and boring food? Vegan Soul Kitchen will not only show you otherwise, but will make it easy for you to create fabulously delicious and exotic dishes. Here's proof that natural foods can be fascinating and sensuous. Here are recipes you will enjoy using time and again."Heidi Swanson, author of Super Natural Cooking, publisher of 101Cookbooks.com
"From gumbo to grits, goobers to greens, Vegan Soul Kitchen dispels the notion that great tasting soul food has to be bad for you. This is a beautiful book brimming with nutrient-packed, approachable everyday recipes. One of those rare cookbooks I look forward to cooking through from cover to cover."Van Jones, author of the New York Times bestseller The Green Collar Economy
"Much more than a cookbook, Vegan Soul Kitchen reads like a rich gumbo of the African American experience, a history lesson with a mouthwatering twist. From reaching back to our heritage as stewards of the earth to offering modern recipes, music suggestions and original poetry, Bryant brings together a portrait of a people as well as a movement (food justice) that is poised to save our health, green our communities, and sustain the earth. Bryant knows the shortest way to people's hearts is through their stomachs."
Peter Berley, author of The Flexitarian Table
"Bryant Terry's warm-hearted, soulful dishes shout out to you and me with crackling, lip smacking goodness. His fresh and sassy way at the stove puts meat on the bones of the very plants that are sure to sustain us for generations to come."Annemarie Colbin, Ph.D., founder, The Natural Gourmet Institute for Health and Culinary Arts, author of The Whole-Food Guide to Strong Bones
"Bryant has written a very creative, original, and musical cookbook. I look forward to trying out a bunch of these appetizing recipes. As a teacher, seeing a graduate of the Natural Gourmet Institute succeed so beautifully warms my heart."Ani Phyo, author Ani's Raw Food Kitchen and Ani's Raw Food Desserts
"Anyone with soul and good taste will love Bryant's 'African Diaspora' recipes. They're downright delicious and satisfying. By mixing together the freshest beats with local, sustainable ingredients and healthful cooking techniques, Bryant brings to life the festive culture of celebration that comes from eating this way."
Ann Peebles, Singer and Songwriter (and Bryant's Aunt)
"That boy can cook!"Jessica B. Harris, author of The Welcome Table
"Don't let the Vegan in the title fool you. With food, music, and a zero waste way with watermelon that yields 6 recipes, Bryant Terry's Vegan Soul Kitchen not just for Vegans. Innovative and taste-full recipes like Sweet Cornmeal Coconut Drop Biscuits, and Baked BBQ Black Eyed Peas, make it a book for anyone who wants to eat well."Jay Foster, Farmer Brown Restaurant
"As the chef and owner of Farmer Brown Restaurant, I know firsthand the challenges of bringing soul food to people who haven't tried it. If you're new to this cuisine, Bryant Terry's recipes will open your world; if you're looking for a twist, prepare to be amazed. All I can say is WOW! Thank you Bryant."Robin D. G. Kelley, author of Freedom Dreams: The Black Radical Imagination
"Bryant Terry transforms age-old black culinary traditions into what soul food ought to be--food that sustain our bodies, our earth, our sense of community, and our desire for the delicious. For the naysayers who resist the audacity of okra or the soft power of tofu, Vegan Soul Kitchen is the new manifesto that cries out, Yes We Can give up meat and enjoy gastronomic nirvana."Alondra Nelson, Yale University, author of Body and Soul: The Black Panther Party and the Politics of Race and Health
"A pioneer of the East Coast food justice movement, now hailing from the West Coast home of progressive food politics--where the Black Panther Party's Free Breakfast for Children program made nutrition a key ingredient of social transformation and where Alice Waters started an organic revolution--who else but Chef Bryant Terry could have brought us the finger-licking, ethical eats in VeganSoul Kitchen. At a moment when food can harm as well as heal, he has ingeniously re-imagined soul food by going back to the roots and back to the land. Recipes paired with vintage R&B, praise songs and poetry remind us that African diasporic cuisine has always been food for living and a total sensory experience."
"There's no going wrong with Bryant Terry's bible for anyone wanting to cook in the rich southern tradition sans animal (and cholesterol)."
—Whalebone, ?Essential Vegan Cookbooks?