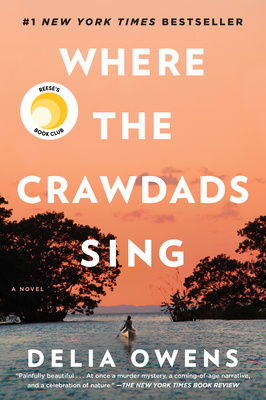 Where the Crawdads Sing: Reese's Book Club (A Novel)
Publication Date:
August 14th, 2018
Publisher:
G.P. Putnam's Sons
Usually Ships in 1 to 5 Days
Where the Crawdads Sing is a stunning and beautiful novel that readers will want to simultaneously savor and devour with every luxurious word. You'll hear the gulls cry on the beach through these pages, you'll see the light flickering through the marsh trees, you'll smell the homemade grits sizzling on the stovetop. Your heart will ache for the lonely marsh girl and your wheels will start turning when a body is discovered, but you'll never regret reading this gorgeous novel.
August 2018 Indie Next List
Description
#1 NEW YORK TIMES BESTSELLING PHENOMENON—NOW A MAJOR MOTION PICTURE!
More than 18 million copies sold worldwide
A Reese's Book Club Pick
A Business Insider Defining Book of the Decade 
"I can't even express how much I love this book! I didn't want this story to end!"—Reese Witherspoon
"Painfully beautiful."—The New York Times Book Review

For years, rumors of the "Marsh Girl" have haunted Barkley Cove, a quiet town on the North Carolina coast. So in late 1969, when handsome Chase Andrews is found dead, the locals immediately suspect Kya Clark, the so-called Marsh Girl. But Kya is not what they say. Sensitive and intelligent, she has survived for years alone in the marsh that she calls home, finding friends in the gulls and lessons in the sand. Then the time comes when she yearns to be touched and loved. When two young men from town become intrigued by her wild beauty, Kya opens herself to a new life—until the unthinkable happens.
Where the Crawdads Sing is at once an exquisite ode to the natural world, a heartbreaking coming-of-age story, and a surprising tale of possible murder. Owens reminds us that we are forever shaped by the children we once were, and that we are all subject to the beautiful and violent secrets that nature keeps.
Praise for Where the Crawdads Sing: Reese's Book Club (A Novel)
"A painfully beautiful first novel that is at once a murder mystery, a coming-of-age narrative and a celebration of nature....Owens here surveys the desolate marshlands of the North Carolina coast through the eyes of an abandoned child. And in her isolation that child makes us open our own eyes to the secret wonders—and dangers—of her private world."—The New York Times Book Review
"Steeped in the rhythms and shadows of the coastal marshes of North Carolina's Outer Banks, this fierce and hauntingly beautiful novel centers on...Kya's heartbreaking story of learning to trust human connections, intertwine[d] with a gripping murder mystery, revealing savage truths. An astonishing debut."—People
"This lush mystery is perfect for fans of Barbara Kingsolver."—Bustle
"A lush debut novel, Owens delivers her mystery wrapped in gorgeous, lyrical prose. It's clear she's from this place—the land of the southern coasts, but also the emotional terrain—you can feel it in the pages.  A magnificent achievement, ambitious, credible and very timely."—Alexandra Fuller, New York Times bestselling author of Don't Let's Go to the Dogs Tonight

"Heart-wrenching...A fresh exploration of isolation and nature from a female perspective along with a compelling love story."—Entertainment Weekly
"This wonderful novel has a bit of everything—mystery, romance, and fascinating characters, all told in a story that takes place in North Carolina."—Nicholas Sparks, New York Times bestselling author of Every Breath

"Delia Owen's gorgeous novel is both a coming-of-age tale and an engrossing whodunit."—Real Simple
"Evocative...Kya makes for an unforgettable heroine."—Publishers Weekly

"The New Southern novel...A lyrical debut."—Southern Living

"A nature-infused romance with a killer twist."—Refinery29
"Anyone who liked The Great Alone will want to read Where the Crawdads Sing....This astonishing debut is a beautiful and haunting novel that packs a powerful punch. It's the first novel in a long time that made me cry."—Kristin Hannah, author of The Great Alone and The Nightingale
"Both a coming-of-age story and a mysterious account of a murder investigation told from the perspective of a young girl...Through Kya's story, Owens explores how isolation affects human behavior, and the deep effect that rejection can have on our lives."—Vanity Fair
"Lyrical...Its appeal ris[es] from Kya's deep connection to the place where makes her home, and to all of its creatures."—Booklist
"This beautiful, evocative novel is likely to stay with you for many days afterward....absorbing."—AARP 
"This haunting tale captivates every bit as much for its crime drama elements as for the humanity at its core." —Mystery & Suspense Magazine
"Compelling, original...A mystery, a courtroom drama, a romance and a coming-of-age story, Where the Crawdads Sing is a moving, beautiful tale. Readers will remember Kya for a long, long time."—ShelfAwareness

"With prose luminous as a low-country moon, Owens weaves a compelling tale of a forgotten girl in the unforgiving coastal marshes of North Carolina. It is a murder mystery/love story/courtroom drama that readers will love, but the novel delves so much deeper into the bone and sinew of our very nature, asking often unanswerable questions, old and intractable as the marsh itself. A stunning debut!"—Christopher Scotton, author of The Secret Wisdom of the Earth

"A compelling mystery with prose so luminous it can cut through the murkiest of pluff mud."—Augusta Chronicle

"Carries the rhythm of an old time ballad. It is clear Owens knows this land intimately, from the black mud sucking at footsteps to the taste of saltwater and the cry of seagulls."—David Joy, author of The Line That Held Us