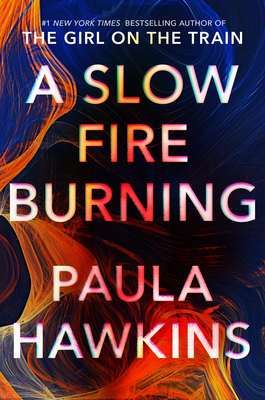 A Slow Fire Burning: A Novel
Publication Date:
August 31st, 2021
Publisher:
Riverhead Books
I remember the addictiveness of Girl on The Train and Into the Water, and Paula Hawkins did not let readers down with this new book. A Slow Fire Burning was an amazing read that I couldn't put down.
September 2021 Indie Next List
Description
AN INSTANT #1 NEW YORK TIMES BESTSELLER
The scorching new thriller from the #1 New York Times bestselling author of The Girl on the Train.
 
"A Slow Fire Burning twists and turns like a great thriller should, but it's also deep, intelligent and intensely human." – Lee Child
"Only a clairvoyant could anticipate the book's ending" – New York Times
 
With the same propulsion that captivated millions of readers worldwide in The Girl on the Train and Into the Water, Paula Hawkins unfurls a gripping, twisting story of deceit, murder, and revenge.
When a young man is found gruesomely murdered in a London houseboat, it triggers questions about three women who knew him. Laura is the troubled one-night-stand last seen in the victim's home. Carla is his grief-stricken aunt, already mourning the recent death of yet another family member. And Miriam is the nosy neighbor clearly keeping secrets from the police. Three women with separate connections to the victim. Three women who are – for different reasons – simmering with resentment. Who are, whether they know it or not, burning to right the wrongs done to them. When it comes to revenge, even good people might be capable of terrible deeds. How far might any one of them go to find peace? How long can secrets smolder before they explode into flame?
 
Look what you started.
Praise for A Slow Fire Burning: A Novel
Praise for A Slow Fire Burning: 

"Sure to set the literary world on fire."—Good Morning America
"A Slow Fire Burning is a classic whodunit that unfolds the mystery until the very last page."—USA Today
"[It] Simmers…this one is indeed a page-turner….like a good curry, layered with spices, percolating for about 300 pages, leaving readers sated at the end." —The Associated Press
"A Slow Fire Burning is not only her most complex, twist-filled tale yet, but it's also the most mature, intricately detailed, and superbly paced book of her career."—shondaland
"Gives the term "thriller" a whole new meaning…Hawkins's new book is a bloody masterpiece that's darker than it appears."—Popsugar
"Paula Hawkins is the queen of keeping us on the edge of our seats. … [A Slow Fire Burning is] the thriller of the summer."—HelloGiggles
"A nuanced picture of the female psyche…a cleverly crafted whodunit."—Salon
"This thrilling whodunnit barely lets you breathe as it barrels toward a shocking ending."—Good Housekeeping

"A creeping psychological thriller about entanglement and strained family relations that spiral into viciousness...Hawkins submerges readers into the troubled lives of her leading ladies... Hawkins shapes the three women's stories in a way that brings their simmering fears and grief to the surface." —AV Club
"Get ready for your next big thrill ride...Filled with plot twists, it promises to keep you guessing until the very end."—CNN
"A Slow Fire Burning is the latest from Paula Hawkins, the woman whose words haunt your dreams. . .We follow three women close to the deceased—an ex, an aunt, and a neighbor. Each has kindled a hot-burning anger against the man in question, and Hawkins happily fans the flames."—Glamour

"A Slow Fire Burning is a treat: utterly readable, moving in parts and saturated with the kind of localized detail that made The Girl on the Train so compelling…a return to form."—The Guardian
"A Slow Fire Burning is a hugely satisfying, brilliantly crafted novel about the entanglement of betrayal and retaliation, the damage of loss, and how tragedy reverberates in ways we can never expect. Wickedly dark and gorgeously written, this is a novel you'll be thinking about long after the last delicious pages. Paula Hawkins is masterful." — Ashley Audrain, New York Times bestselling author of The Push
"With a beautifully wrought cast of characters who are real and likeable even when they are complicated and flawed, a fantastic, picturesque London setting, twists and turns galore and exquisite prose, this is a high class read. Paula Hawkins is a genius." —Lisa Jewell, New York Times bestselling author of The Family Upstairs

"The flaws of each character will surprise and perhaps even enchant you — and only a clairvoyant could anticipate the book's ending."—The New York Times Book Review
"From the author of The Girl on the Train and Into the Water comes another read-it-in-one-night thriller. . .  [A Slow Fire Burning] proves that revenge is actually a dish best served hot, simmering and smoldering."—Town & Country

"A dark, intricate tale of three women tied to a bloody murder on a London houseboat. You'll be gobsmacked by the end." — People
"A satisfying whodunit that will keep you guessing until the very end."—Vogue

"Another twist-filled thriller."—PopSugar
"I love Paula Hawkins, and this is why—A Slow Fire Burning twists and turns like a great thriller should, but it's also deep, intelligent and intensely human . . . the characters are just like people you know . . . or maybe even just like you yourself. Hawkins is proving herself a worthy 21st century heir to Barbara Vine and Patricia Highsmith." —LEE CHILD
"Shocking, moving, full of heart . . . Laced with humour and packed with moments of sheer horror, A Slow Fire Burning shows a writer at the height of her powers." –London Observer