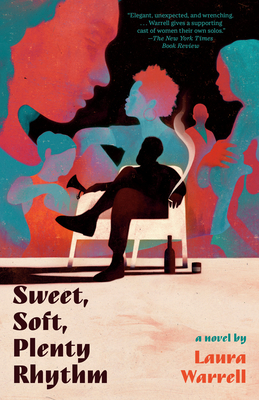 Sweet, Soft, Plenty Rhythm: A Novel
Publication Date:
July 25th, 2023
Usually Ships in 1 to 5 Days
Like the jazz in her debut novel, Warrell threads together the lyrical, effervescent story of trumpeter Circus Porter and, more importantly, the women who have marked his life. A beautiful, breakable, lovely mess; this novel is its song.
October 2022 Indie Next List
Description
GMA BUZZ PICK • How do we find belonging when love is unrequited? A "gorgeously written debut" (Celeste Ng, best-selling author of Little Fires Everywhere) filled with jazz and soul, about the perennial temptations of dangerous love, told by the women who love Circus Palmer—trumpet player and old-school ladies' man—as they ultimately discover the power of their own voices.
"Elegant, unexpected and…unforgettable." —New York Times Book Review
 
"A modern masterpiece." —Jason Reynolds, best-selling author of Look Both Ways     
It's 2013, and Circus Palmer, a forty-year-old Boston-based trumpet player and old-school ladies' man, lives for his music and refuses to be tied down. Before a gig in Miami, he learns that the woman who is secretly closest to his heart, the free-spirited drummer Maggie, is pregnant by him. Instead of facing the necessary conversation, Circus flees, setting off a chain of interlocking revelations from the various women in his life.
Most notable among them is his teenage daughter, Koko, who idolizes him and is awakening to her own sexuality even as her mentally fragile mother struggles to overcome her long-failed marriage and rejection by Circus. Delivering a lush orchestration of diverse female voices, Warrell spins a provocative, soulful, and gripping story of passion and risk, fathers and daughters, wives and single women, and, finally, hope and reconciliation.
Praise for Sweet, Soft, Plenty Rhythm: A Novel
PEN/FAULKNER AWARD FINALIST• GMA BUZZ PICK • AN OPRAH DAILY FAVORITE BOOK OF THE YEAR • A PEOPLE MUST READ • A KIRKUS BEST BOOK OF THE YEAR • CARNEGIE MEDAL FOR EXCELLENCE NOMINEE • GOLDEN POPPY BOOK AWARD FINALIST
A Most Anticipated Book: The Washington Post, The Boston Globe, PEOPLE, The Millions, Literary Hub, The Root, Apartment Therapy, St. Louis Post Dispatch, Oprah Daily •
"Soulful . . . Structured like a jam session, the novel favors a series of riffs over any one melodic theme. Warrell gives a supporting cast of women their own solos, through close-third-person chapters that detail their entanglements with the elusive Circus . . . Elegant, unexpected and wrenching as the "fierce" sounds that emerge from Circus's trumpet . . . Unforgettable." —Lauren Christensen, New York Times Book Review
 
"[An] emerging literary superstar . . . Warrell writes a mean bad boy! This sensual and sensuous debut is a kaleidoscopic character study, a polyphonic riff on the modern-day Casanova from the perspectives of the myriad women in his wake.  Both visceral and finely observed, the novel captures social nuance and emotional wreckage with precision and compassion." —Oprah Daily, "30 of the Best Fall Fiction Books of 2022 to Cuddle Up With"
"Soulful and gripping . . . In her debut novel, Warrell assembles a lush orchestra of female voices to sing a story about passion and risk, fathers and daughters and the missed opportunities of unrequited love."  —The Millions
"Circus Palmer, a 40-year-old jazz trumpet player, has spent a lifetime fleeing from romantic entanglements. Left in his wake are all the former wives, single mothers and other women he has avoided, including his teenage daughter, Koko. Warrell's engaging debut novel spotlights their stories, weaving together the lives of indelibly created characters as they struggle to forge and maintain intimate connections." —The Washington Post, "10 Noteworthy Books for September"

"[A] moody and musical debut . . . No man is an island, not even a loner who has dodged commitment for all of his 40 years. And when a man like that goes off the rails the impact on others can be profound . . . Warrell excels at describing these points of contact—more often bruising impact than connection—conveying the varying degrees of longing, loneliness, and even aversion that can bring two people together . . . Sprawling and ambitious." —Clea Simon, Boston Globe
  
"Moody, sexy, and (sometimes painfully) real." —People, "Best Fall Books 2022"

"Jazz sets the tone in this tender debut from Laura Warrell . . . Through smoky bars and clubs, hotel rooms, and bedrooms in New York, Boston, and Miami, Warrell spins a big-hearted multicultural world that never ignores race but still allows each character to live their lives as they see fit." —Apartment Therapy, "If You're Going to Read One Book in September, Make It This One"

"A highly lyrical blockbuster debut . . . An enticing exploration of jazz music and the inner lives of women." —Hollywood Reporter, "What to Read Right Now: Timely Books With Hollywood Appeal"

"A buzzed-about debut that takes readers behind the scenes of jazz clubs and into the private lives of touring musicians." —The Boston Globe, "The 20 Books We're Most Excited to Read This Fall"
"A deeply engaging multifocal debut novel . . . [Sweet, Soft, Plenty Rhythm] is built like a hastily assembled jazz ensemble, a group of players taking turns on a rough theme, gathering their solos into a rich, indelible composition, so much stronger than the sum of its parts." —Literary Hub, "22 Novels You Need to Read This Fall"
"'Jazz music is to be played sweet, soft, plenty rhythm,' proclaimed Jelly Roll Morton, and Warrell plays her exceptional first novel with plenty of rhythm and tenderness, delivered in brisk, mordantly gorgeous language that has its own natural flow. Each woman has her own life, her own story . . . and as in any good jazz piece these stories play off one another seamlessly. A highly recommended story of love and life that makes beautiful music." —Library Journal (starred review)

"An impressive debut novel weaves storylines of lost love, coming-of-age, and midlife crisis . . . Warrell displays delicately wrought characterization and a formidable command of physical and emotional detail. Her more intimate set pieces deliver sensual, erotic vibrations . . . she knows how to write about the way it feels to deliver jazz—and receive it. A captivating modern romance evoking love, loss, recovery, and redemption." —Kirkus Reviews (starred review)
"Warrell unfurls in her engaging debut the story of a peripatetic trumpet player. . . [She] evocatively describes the women who inspire Circus's music and his lust . . . and finds the sadness deep in his heart. Warrell hits all the right notes." —Publishers Weekly
"Warrell tells this powerful, polyphonic tale mainly through the voices of those people Circus loves and leaves . . . All of these narrators appear and reappear as recurring motifs in the fugue-like tapestry of Circus' life, each playing a variation on the theme of this deeply flawed but charismatic man's hold on them, but also displaying their determination to establish individual lives . . . [A] remarkably assured, unforgettable debut." —Booklist (starred review)

"Told in a rich array of voices, this gorgeously written debut explores the myriad syncopations of love and desire. Laura Warrell writes with an enormous understanding of human nature, a boundless sympathy for life's complications, and a keen eye for life's unexpected joys." —Celeste Ng, author of Little Fires Everywhere

"Beautifully and cleverly written, Laura Warrell's Sweet, Soft, Plenty Rhythm is a stunner. The novel's tender, sensual, enchanting prose entices you into a world of deep longing and so much heartache. Still, I didn't want to leave it. A truly mesmerizing debut!" —Deesha Philyaw, author of The Secret Lives of Church Ladies
  
"The most memorable novels of my life are boiling over with insatiably written secondary characters that crave their own books. The same can be said about our most jamming jazz quartets. This peculiar cacophony is exactly what we see in at least five characters in Sweet, Soft, Plenty Rhythm. Koko, for example, is a once in lifetime, once in a galaxy character. Laura Warrell has crafted a world within the world with the achy mystery, wonder and subtexual bounce of the greatest jazz. Sweet, Soft, Plenty Rhythm is a soulful, fleshy and absolutely stunning debut. Warrell will re-teach us how to wail, pause and reckon. I am thankful."  —Kiese Laymon, author of Heavy
  
"In an exceptional debut, Warrell turns love, or at least the love life of musician Circus Palmer into the proverbial jazz club: dark and sexy, freeing and frightening, ecstatic and lonely. This story is an example of how love, in all of its polyrhythms, can sometimes sound like song, and other times like noise. And this book is an example of how a great story can become a bass drum, kicking and thumping in your belly far after it's over. A modern masterpiece." —Jason Reynolds, author of Look Both Ways
"Sweet, Soft, Plenty Rhythm is a sultry and subversive debut. Laura Warrell's prose sparkles, but it's what she's got to say about sex and love and being a woman that will take your breath away. This book is a love song, and Warrell knows how to hold all the right notes."  —Rachel Beanland, author of Florence Adler Swims Forever
  
"Lyrical, sweeping, and life affirming, Sweet, Soft, Plenty Rhythm is an astonishing debut that wraps you in the passionate pulse of its characters and their world, and doesn't let go until its pitch perfect final note."  —Liska Jacobs, author of Catalina and The Pink Hotel
 
"Sweet, Soft, Plenty Rhythm kept me turning the pages to see what shenanigans the titular jazz musician pulled next, while also waiting to cheer the moment when the women in his life finally blocked his number. Laura Warrell has cooked up one of the most compelling, entertaining, and heartfelt reads in recent memory." —Chris Terry, author of Black Card
 
In Sweet, Soft, Plenty Rhythm, we meet trumpet player Circus Palmer, as problematic as he is enigmatic, as irresistible as your favorite song, and the women whom he seeks out, and walks away from, are just as compelling. Laura Warrell writes with such assurance and grace—her sentences sing—and she has created a world I didn't want to leave: it's sexy and profound, painful and joyful. A remarkable, unforgettable debut." —Edan Lepucki, author of California and Woman No. 17
 
"A book about desire and about love, about where these emotions meet and part and sometimes interlace in inescapable ways. But it is about so much more: these characters, for instance, painted by Warrell's uniquely masterful brush so that even in small moments they seem entirely whole, entirely alive. Sentence by sentence, this is a novel showing its author at the top of her game—a classic in the making." —Brian Castleberry, author of Nine Shiny Objects