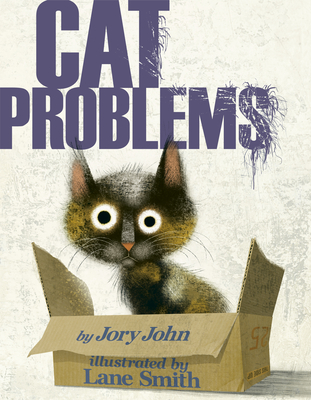 Cat Problems (Animal Problems)
Publication Date:
August 3rd, 2021
Publisher:
Random House Studio
Usually Ships in 1 to 5 Days
I am so psyched that there's a new Jory John and Lane Smith book! And it's about cats and a day in their real lives! And a squirrel!
July/August 2021 Kids Indie Next List
Description
What could a pampered house cat possibly have to complain about? This latest collaboration from picture book superstars--and cat devotees--Lane Smith and Jory John brings with it a hilarious set of feline problems!
Just like most cats, this cat lives an extremely comfortable life. But he has his problems too!
The sun spot he's trying to bathe in won't stop moving. He keeps getting served dry food instead of wet. And don't even get him started on the vacuum--it's an absolute menace!--and the nosy neighbor squirrel that just can't seem to mind its own business. Will this cat ever find the silver lining?
Jory John and Lane Smith once again air their grievances in this must-have companion book to Penguin Problems and Giraffe Problems.
Praise for Cat Problems (Animal Problems)
"Prolific children's book author and illustrator Jory John and Lane Smith team up in this hilarious picture book that follows the day in the life of a bored house cat.... This picture book got lots of big laughs out of my cat-loving toddler." —Book Riot
"Great fun, even—or especially?—if you don't have a cat." —Booklist, starred review
"The star of the third entry in the collaborators' Animal Problems series is a sarcastic, malcontent cat narrator who is unrepentant right out of the gate. Readers can't help but laugh—and perhaps even identify with an id unabashedly unleashed. —Publisher's Weekly 

"Fun; kids should lap this up fur storytime." —Kirkus Reviews

"Is there any problem more important than a cat problem? Not to the cat in Jory John's puckish ode to a finicky, fickle, ever-dissatisfied feline. The visual jokes from Lane Smith begin on the cover (with lettering shredded a la cat) and continue throughout this day-in-the-life look at perching on furniture, tasty treats ... and longing to munch on a squirrel just outside the window ..." —The Virginian Pilot
 
"What's the problem for a cat who spends all day lounging? This one can name quite a few, in this funny follow-up to Penguin Problems and Giraffe Problems. —TODAY
"Cat lovers will fully appreciate this hilarious tale from Jory John. With perfectly textured illustrations from Lane Smith, this fun book follows the completely difficult life of a house cat as he navigates his day." —Tiny Beans