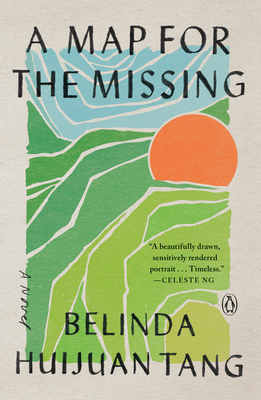 A Map for the Missing: A Novel
Publication Date:
August 8th, 2023
Usually Ships in 1 to 5 Days
A poignant exploration of home, love, and ambition, set against the backdrop of Cultural Revolutionary China. Tang has a keen eye for familial conflict, and portrays regret with deftness. This is a beautiful, bittersweet debut.
August 2022 Indie Next List
Description
Longlisted for the Center for Fiction's 2022 First Novel Prize!
"Belinda Huijuan Tang's debut novel is a beautifully drawn, sensitively rendered portrait of a man desperately searching for his father—and for reconnection to the past and people he once knew and loved. Both rich in historical detail and timeless in scope, A Map for the Missing explores the costs of choosing your own path, whether what's left behind can ever be retrieved, and whether it is possible to forgive the wounds we inevitably inflict on each other." —Celeste Ng, #1 New York Times bestselling author of Little Fires Everywhere
"An engrossing saga of a young mathematician caught between two countries, two cultures, two eras, and two loves. Set against the violent turmoil of the Chinese Cultural Revolution, this powerful debut explores the wrenching impact of political ideologies on individual lives in a way that is resonant and timely." —Ruth Ozeki, author of The Book of Form and Emptiness and A Tale for the Time Being
An epic, mesmerizing debut novel set against a rapidly changing post–Cultural Revolution China, A Map for the Missing reckons with the costs of pursuing one's dreams and the lives we leave behind
Tang Yitian has been living in America for almost a decade when he receives an urgent phone call from his mother: his father has disappeared from the family's rural village in China. Though they have been estranged for years, Yitian promises to come home.
 
When Yitian attempts to piece together what may have happened, he struggles to navigate China's impenetrable bureaucracy as an outsider, and his mother's evasiveness only deepens the mystery. So he seeks out a childhood friend who may be in a position to help: Tian Hanwen, the only other person who shared Yitian's desire to pursue a life of knowledge. As a teenager, Hanwen was "sent down" from Shanghai to Yitian's village as part of the country's rustication campaign. Young and in love, they dreamed of attending university in the city together. But when their plans resulted in a terrible tragedy, their paths diverged, and while Yitian ended up a professor in America, Hanwen was left behind, resigned to life as a midlevel bureaucrat's wealthy housewife.
 
Reuniting for the first time as adults, Yitian and Hanwen embark on the search for Yitian's father, all the while grappling with the past—who Yitian's father really was, and what might have been. Spanning the late 1970s to 1990s and moving effortlessly between rural provinces and big cities, A Map for the Missing is a deeply felt examination of family and forgiveness, and the meaning of home.
Praise for A Map for the Missing: A Novel
"Engrossing." —The New York Times Book Review
"Poignant and emotionally complex, Tang beautifully delivers a memorable tale." —Buzzfeed
"Sweeping . . . As [Yitian] searches for his father, he reconnects with old friends, reopens old wounds and seeks to find not just his father but a better sense of his place in the family he left behind for America." —The Washington Post

"[A] far-reaching and impactful debut novel . . . Tang's vibrant, stirring descriptions of Communist China during the Cultural Revolution and its aftermath . . . grip, transport and beguile. . . . The sections involving Yitian's complicated family life . . . are to be savored . . . and the dominant narrative—one loosely based on a story at the center of her own family's past—is wholehearted and sensitively drawn. I can't wait to see what she writes next." —San Francisco Chronicle
"[This] novel soars . . . Tang's prose is elegant and precise . . . As past and present heartbreaks collide, Tang delineates with care her characters' dreams for themselves and sometimes conflicting hopes for their families. Shifting back and forth between the late 1970s and early 1990s, A Map for the Missing is a vivid portrait of this period of rapid change in Chinese society." —Minneapolis Star Tribune
"Gorgeous . . . devastating . . . Belinda Huijuan Tang's debut spins an emotional story set in a post–Cultural Revolution China. Exploring questions of cultural identity and the scars immigration can leave on a family over decades, Tang's novel is drawn from a true story at the center of her own family's past." —Apartment Therapy
"In this spectacular debut, Tang places an everyman at the center of her narrative and traces his unease with himself and the larger world . . . A breathtaking portrait of the regret that can forever shape a life when someone helplessly sticks to the path of least resistance." —Booklist (starred review)
"Splendid . . . It's astonishing that A Map for the Missing is Tang's debut novel . . . gripping from its first page to its last." —BookPage
"[An] ambitious debut novel . . . Themes of family and forgiveness against the sweep of political foment inform this epic . . . A Map for the Missing finds a math professor returning from the United States to his native China on a pilgrimage of multigenerational discovery." —Kirkus  
"[An] exquisite novel . . . remarkable . . . a gentle, detailed reveal of life-marking experiences; a time of hunger, both physical and intellectual in nature, of rejection and loss; and of unexpected love and healing forgiveness." —Shelf Awareness
"Belinda Huijuan Tang's debut novel is a beautifully drawn, sensitively rendered portrait of a man desperately searching for his father—and for reconnection to the past and people he once knew and loved. Both rich in historical detail and timeless in scope, A Map for the Missing explores the costs of choosing your own path, whether what's left behind can ever be retrieved, and whether it is possible to forgive the wounds we inevitably inflict on each other." —Celeste Ng, #1 New York Times bestselling author of Little Fires Everywhere
"Belinda Huijuan Tang's immersive debut transports readers between rural China and urban centers; the past and present; what could have been and what is. It is a powerful and captivating examination of love, identity, home, and the forks in the road that stay with us. Bringing to vivid life an era that merits more attention in western literature, A Map for the Missing harkens the arrival of a talented new author." —Qian Julie Wang, New York Times bestselling author of Beautiful Country
"An engrossing saga of a young mathematician caught between two countries, two cultures, two eras, and two loves. Set against the violent turmoil of the Chinese Cultural Revolution, this powerful debut explores the wrenching impact of political ideologies on individual lives in a way that is resonant and timely." —Ruth Ozeki, author of The Book of Form and Emptiness and A Tale for the Time Being
"A Map for the Missing is a propulsive, lush novel that pulled me in from the first page and never let go. At once heartbreaking and hopeful, Belinda Huijuan Tang's epic debut takes us on a man's desperate search to reconnect with what he's lost, to rediscover what he's forgotten. I loved this novel." —Angie Kim, author of Miracle Creek
"Exquisite and precise, A Map for the Missing tracks two lovers, pulled across years and nations, who never stop longing for each other. It is stunning. Belinda Huijuan Tang crafts her story with all the tenderness, specificity, and vision of a god making a planet. The world she builds in these pages is one you won't ever want to leave." —Julia Phillips, author of Disappearing Earth
"Belinda Huijuan Tang's magical debut epitomizes both meanings of tenderness, in the palpable love it shows for its characters, and by its sensitive exploration of their wounds, inflicted by self and time and social milieu. A Map for the Missing is sharply etched and lovingly rendered." —Nawaaz Ahmed, author of Radiant Fugitives, longlisted for the 2022 PEN/Faulkner Award for Fiction
"Belinda Huijuan Tang has delivered a polymathic, ambitious, and assured debut. All at once, A Map for the Missing manages to be a haunting intergenerational mystery, a poetic rumination on loss, and an epic tale of love disappeared and rediscovered. With propulsive yet patient prose, Tang nimbly examines the way grand historical tides converge with small turns of chance to add up to a life. This novel invites us to think anew about language, education, regret, migration, and the myriad ways political change-winds upend our best-laid plans. A Map for the Missing does not read like a first novel—it's a mature and wise feat of realism from a writer already in total control of her craft." —Sanjena Sathian, author of Gold Diggers
"A wonderful, accomplished debut, written with wisdom and compassion. The private dignity of Tang's characters is breathtaking, her sense of time and place patient and true. I am full of admiration." —Meng Jin, author of Little Gods
"A Map for the Missing is a sure-footed, deeply-considered novel that pulls the reader in with its urgency from the outset. Through this narrative of love, familial duty, the costs of charting one's own path and the enduring allure of paths not taken, Belinda Huijuan Tang proves herself to be the best kind of storyteller: one who writes with heart and courage." —Angela Flournoy, author of The Turner House, finalist for the National Book Award
"A Map for the Missing gives vivid life to the uncanny truths of return, reunion, and time. A simple mystery—a father who has vanished—forcefully animates the story, but what casts a spell over readers and makes this novel so memorable is the attention, both loving and piercing, with which the author regards her characters. Belinda Huijuan Tang's debut is vigorous and deft, intricate and precise." —Jamel Brinkley, author of A Lucky Man, finalist for the National Book Award
"A stunning debut full of vivid writing, A Map for the Missing reminds you of exactly why we read in the first place. Through the expertly drawn and utterly original characters of Yitian and Hanwen, Belinda Huijuan Tang confronts how history, mobility, memory, and desire all intertwine in our perpetual search for peace. From the campus of an elite American university to the countryside of Cultural Revolutionary China, Tang confidently and artfully paints a complex and vast world that is both ethereal and familiar, characters concurrently exacting and reckless. The result is a novel that explores the bittersweetness of returns and the ultimate healing behind coming home." —Xochitl Gonzalez, author of Olga Dies Dreaming
"With lean, musical prose, Belinda Huijuan Tang has written a stunning debut about family, belonging and love. I will be thinking about these characters for a long time." —De'Shawn Charles Winslow, author of In West Mills