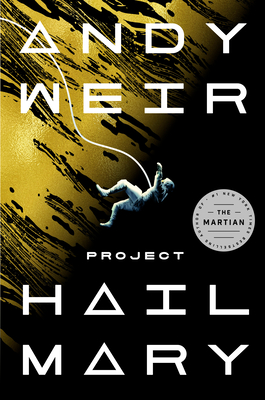 Project Hail Mary: A Novel
Publication Date:
May 4th, 2021
Publisher:
Ballantine Books
Usually Ships in 1 to 5 Days
Remember how much you loved The Martian? Prepare to love this book even more. I found myself engrossed from the very beginning, and every page brings a new delight. Weir writes incredible characters that leave a mark you'll feel long after you're done.
May 2021 Indie Next List
Project Hail Mary has all the nerdy, factual charm that drew me to Andy Weir. It's a thriller, an adventure, and a romantic ode to all those who have wondered about intelligent species in the great beyond. Don't cryosleep on this title!
Winter 2023 Reading Group Indie Next List
Description
#1 NEW YORK TIMES BESTSELLER • From the author of The Martian, a lone astronaut must save the earth from disaster in this "propulsive" (Entertainment Weekly), cinematic thriller full of suspense, humor, and fascinating science—in development as a major motion picture starring Ryan Gosling.
HUGO AWARD FINALIST • ONE OF THE YEAR'S BEST BOOKS: Bill Gates, GatesNotes, New York Public Library, Parade, Newsweek, Polygon, Shelf Awareness, She Reads, Kirkus Reviews, Library Journal • "An epic story of redemption, discovery and cool speculative sci-fi."—USA Today
"If you loved The Martian, you'll go crazy for Weir's latest."—The Washington Post
Ryland Grace is the sole survivor on a desperate, last-chance mission—and if he fails, humanity and the earth itself will perish.
Except that right now, he doesn't know that. He can't even remember his own name, let alone the nature of his assignment or how to complete it.
All he knows is that he's been asleep for a very, very long time. And he's just been awakened to find himself millions of miles from home, with nothing but two corpses for company.
His crewmates dead, his memories fuzzily returning, Ryland realizes that an impossible task now confronts him. Hurtling through space on this tiny ship, it's up to him to puzzle out an impossible scientific mystery—and conquer an extinction-level threat to our species.
And with the clock ticking down and the nearest human being light-years away, he's got to do it all alone.
Or does he?
An irresistible interstellar adventure as only Andy Weir could deliver, Project Hail Mary is a tale of discovery, speculation, and survival to rival The Martian—while taking us to places it never dreamed of going.
Praise for Project Hail Mary: A Novel
"A crowd-pleaser on the grandest scale."—The Boston Globe
"An engaging space odyssey."—The New York Times Book Review (Editors' Choice)
"Dazzling."—Vulture
"Funny, well plotted, and full of surprises."—The Guardian
"A joy to read."—Locus
"The ultimate page-turner."—Daily Mail
"Weir spins a space yarn in a way only he can. Fans of his earlier works won't be disappointed."—Newsweek
"Andy Weir proves once again that he is a singular talent. Project Hail Mary is so fascinating and propulsive that it's downright addictive. From the first page as Ryland wakes up not knowing who or where he is, I was hooked."—Taylor Jenkins Reid, New York Times bestselling author of Daisy Jones & The Six
"Reading Project Hail Mary is like going on a field trip to outer space with the best science teacher you've ever had—and your class assignment is to save the world. This is one of the most original, compelling, and fun voyages I've ever taken."—Ernest Cline, #1 New York Times bestselling author of Ready Player One
"Two worlds in peril, a competent (but flawed and human) man, a competent alien, unending scientific puzzles to unravel, with humanity itself at risk, this one has everything fans of old school SF (like me) love. If you like a lot of science in your science fiction, Andy Weir is the writer for you."—George R. R. Martin, New York Times bestselling author of A Game of Thrones
"I loved The Martian, but I actually find Project Hail Mary to be Mr. Weir's finest work to date. It's somehow both exciting, yet also personal. I'm constantly amazed by how well Mr. Weir continues to write wonderfully accessible science fiction without compromising either the science or the fiction."—Brandon Sanderson, New York Times bestselling author of the Stormlight Archive series
"Brilliantly funny and enjoyable . . . one of the most plausible science fiction books I've ever read."—Tim Peake, ESA astronaut and internationally bestselling author of Limitless
"Thrilling doesn't even begin to describe Project Hail Mary, which is undisputedly the best book I've read in a very, very long time . . . I cheered, I laughed (a lot), I cried, and when the twist arrived and the book revealed its true target, my jaw hit the floor. Mark my words: Project Hail Mary is destined to become a classic."—Blake Crouch, New York Times bestselling author of Recursion and Dark Matter
"Readers may find themselves consuming this emotionally intense and thematically profound novel in one stay-up-all-night-until-your-eyes-bleed sitting. An unforgettable story of survival and the power of friendship—nothing short of a science fiction masterwork."—Kirkus Reviews (starred review)