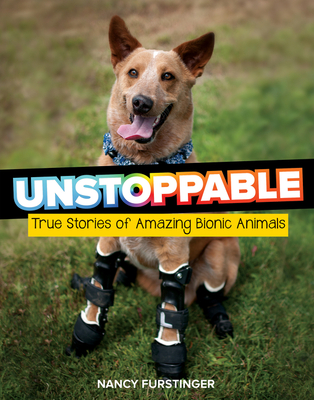 Unstoppable: True Stories of Amazing Bionic Animals
Publication Date:
October 10th, 2017
Description
Chris P. Bacon was born with malformed legs, but with the help of a wheelchair made of construction toys, he's become a hero to people with similar challenges.
Nancy Furstinger profiles Chris P. Bacon and many other animals in Unstoppable—all of whom are making their way around with the help of prosthetics, braces, orthotics and wheelchairs! Readers will meet the caretakers, prosthetists, vets, and loving families that help to make recovery possible. Furstinger offers a glimpse into the cutting-edge technologies, such as 3D printing and brain-controlled prosthetics, that are helping to improve the lives of animals and humans alike.   
Praise for Unstoppable: True Stories of Amazing Bionic Animals
"There's no way a book this adorable will stay on the shelves, which is fitting considering it's about animals on the move—disabled animals to be exact...Numerous STEM connections, from the prosthetics' designs, the shared advances between veterinary and human medicine, and a page devoted to low-tech solutions, such as PVC-pipe walkers and a skateboard-scooting tortoise. Inspiring and heartwarming."  —Booklist   "This book is sure to appeal to animal lovers and future veterinarians. A must-have for nonfiction shelves." –School Library Journal   "…Entertaining and enlightening to read." –Kirkus —