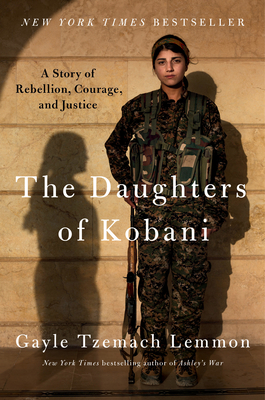 The Daughters of Kobani: A Story of Rebellion, Courage, and Justice
Publication Date:
February 16th, 2021
Description
A NEW YORK TIMES BESTSELLER
The extraordinary story of the women who took on the Islamic State and won
"The Daughters of Kobani is an unforgettable and nearly mythic tale of women's power and courage. The young women profiled in this book fought a fearsome war against brutal men in impossible circumstances—and proved in the process what girls and women can accomplish when given the chance to lead. Brilliantly researched and respectfully reported, this book is a lesson in heroism, sacrifice, and the real meaning of sisterhood. I am so grateful that this story has been told." —Elizabeth Gilbert, author of Big Magic and Eat, Pray, Love
"Absolutely fascinating and brilliantly written, The Daughters of Kobani is a must-read for anyone who wants to understand both the nobility and the brutality of war. This is one of the most compelling stories in modern warfare." —Admiral William H. McRaven, author of Make Your Bed
In 2014, northeastern Syria might have been the last place you would expect to find a revolution centered on women's rights. But that year, an all-female militia faced off against ISIS in a little town few had ever heard of: Kobani. By then, the Islamic State had swept across vast swaths of the country, taking town after town and spreading terror as the civil war burned all around it. From that unlikely showdown in Kobani emerged a fighting force that would wage war against ISIS across northern Syria alongside the United States. In the process, these women would spread their own political vision, determined to make women's equality a reality by fighting—house by house, street by street, city by city—the men who bought and sold women.
Based on years of on-the-ground reporting, The Daughters of Kobani is the unforgettable story of the women of the Kurdish militia that improbably became part of the world's best hope for stopping ISIS in Syria. Drawing from hundreds of hours of interviews, bestselling author Gayle Tzemach Lemmon introduces us to the women fighting on the front lines, determined to not only extinguish the terror of ISIS but also prove that women could lead in war and must enjoy equal rights come the peace. In helping to cement the territorial defeat of ISIS, whose savagery toward women astounded the world, these women played a central role in neutralizing the threat the group posed worldwide. In the process they earned the respect—and significant military support—of U.S. Special Operations Forces.
Rigorously reported and powerfully told, The Daughters of Kobani shines a light on a group of women intent on not only defeating the Islamic State on the battlefield but also changing women's lives in their corner of the Middle East and beyond.
Praise for The Daughters of Kobani: A Story of Rebellion, Courage, and Justice
"An inspiring look at the all-female militia that helped fight ISIS—and shine a light on women's capabilities and rights—in Syria." —People
"Fascinating . . . The inspiring story about the Kurdish women warriors who took on the terrorists of the Islamic State in Syria and won." —Good Morning America
"For many people outside Iraq and northeastern Syria, the Islamic State remains an abstraction. For the commanders of the Kurdish Women's Protection Units (YPJ), one of the most intrepid fighting forces on the ground, the terrorist group was anything but. . . . Few, if any, writers have told their story better than Gayle Tzemach Lemmon, whose The Daughters of Kobani records in rich detail the story of the female Kurdish fighters who achieved mythical status as a key part of the U.S.-backed force that ultimately defeated the Islamic State. Lemmon . . . vividly chronicles the YPJ's grueling fight with the Islamic State on the battlefield. . . . The reader can feel the tension in a sniper's knees as she crouches for a shot and hear the hiss of Islamic State fighters taunting the female commanders over the radio." —Foreign Policy
"A riveting story of women in combat. . . . Compelling. . . . A tale that's sure to shock anyone who believes that combat is exclusively a man's job." —Military.com
"A must read for anyone who wants to feel inspired by women defying the odds to create change, or those who can appreciate courageous journalism." —Marie Claire
"Impressively reported. . . . It's a story not only about the warriors who battled ISIS against all odds, but also a reminder of the ways in which the world is still divided by gender—and how that's changing in Syria, the Middle East, and the world at large." —Town and Country
 
"Handling difficult topics with adroit respect and care, Lemmon offers a story that's eminently relatable and speaks to the ongoing fight for women's rights the world over. This is a story that needed to be told and needs to be heard. Highly recommended to anyone with an interest in current events and women's history." —Library Journal (starred review)
 
"Lemmon's books . . . have extolled heroic women fighting sexism in the Islamic world. Now she's back with The Daughters of Kobani, a remarkable true story about an all-female Kurdish militia who helped drive ISIS from northern Syria." —CNN.com
"The Women's Protection Units (the YPJ) proved their heroism time and again throughout the campaign against the Islamic State. I was always concerned that our Syrian Kurdish partners would never get their full due; this excellent book by Gayle Tzemach Lemmon documents their contributions perfectly. I strongly recommend it." —Joseph L. Votel, General, US Army (Ret)
"A fascinating portrait of Kurdish female fighters and their role in the Syrian civil war and the fight against the Islamic State. . . . Riveting. . . . [Lemmon] unravels the complex history of the region with skill. This deeply reported account enthralls and informs." —Publishers Weekly (starred review)
"The Daughters of Kobani is proof of the power of women to shape their future and the power of girls to create the world in which they want to live. The brave example these women have set against the longest odds should inspire us all." —Reshma Saujani, founder and CEO of Girls Who Code and author of Brave, Not Perfect
"A well-told story of contemporary female warriors and the complex geopolitical realities behind their battles." —Kirkus
"The Daughters of Kobani is an unforgettable and nearly mythic tale of women's power and courage. The young women profiled in this book fought a fearsome war against brutal men in impossible circumstances—and proved in the process what girls and women can accomplish when given the chance to lead. Brilliantly researched and respectfully reported, this book is a lesson in heroism, sacrifice, and the real meaning of sisterhood. I am so grateful that this story has been told." —Elizabeth Gilbert, author of Big Magic and Eat, Pray, Love

"One of America's premier storytellers has risked her life to research perhaps the most important subject of our times: the empowerment of women and the establishment of a truly egalitarian society. Documenting the extraordinary struggles of a small group of women battling ISIS, Lemmon has showed us unequivocally what female leadership can do for a society. It is breathtaking to behold." —Sebastian Junger, author of Tribe
 
"Absolutely fascinating and brilliantly written, The Daughters of Kobani is a must-read for anyone who wants to understand both the nobility and the brutality of war. This is one of the most compelling stories in modern warfare." —Admiral William H. McRaven, author of Make Your Bed
 
"This book is the extraordinary and humbling story of the women leading the fight against ISIS." —Angelina Jolie, actor, director, and activist
 
"The Daughters of Kobani is real-time history told with rigor and heart. Marrying two important narratives—the United States's entry into the Syrian conflict from the air and the lived experience of Syrians fighting ISIS on the ground—it is a remarkable contribution." —Hassan Hassan, co-author of ISIS: Inside the Army of Terror
"This passionate and incisive book takes us into the radically brave hearts of the women who fought ISIS. The Daughters of Kobani is a gift to the women of the Middle East and to us, inscribing their sacrifice onto the history of a war no one will soon forget." —Azadeh Moaveni, author of Guest House for Young Widows
 
"Moving and inspiring, Gayle Tzemach Lemmon's The Daughters of Kobani vividly recounts the astonishing story of the all-women's army that fought and died to stop ISIS. These are fiercely brave women whose courage is unforgettable." —David Ignatius, columnist for The Washington Post and author of The Paladin
 
"The Daughters of Kobani offers a courageously reported, must-read account of a group of women fighters who risked everything to defeat ISIS and take their future into their own hands. Gayle Tzemach Lemmon has written an invaluable book for those seeking to understand the direction of twenty-first century conflict." —August Cole, co-author of Burn-In