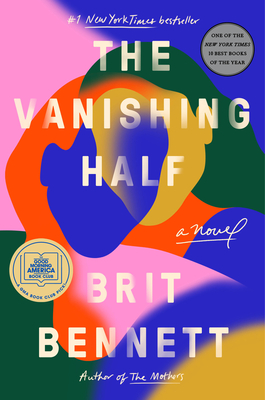 The Vanishing Half: A GMA Book Club Pick (A Novel)
Publication Date:
June 2nd, 2020
Publisher:
Riverhead Books
Usually Ships in 1 to 5 Days
Brit Bennett's second novel broke my heart. She doesn't shy away from the sadness inherent in each character's life, yet she left me feeling better for having met all of them. I read The Vanishing Half with a sense of hope, despite my dread that terrible things might befall the characters. Desiree and Stella's story unfolds with a deft delicateness in a book that is astonishingly accomplished and sweeping, and yet so very intimate.
June 2020 Indie Next List
Description
#1 NEW YORK TIMES BESTSELLER
ONE OF BARACK OBAMA'S FAVORITE BOOKS OF THE YEAR

NAMED A BEST BOOK OF 2020 BY THE NEW YORK TIMES * THE WASHINGTON POST * NPR * PEOPLE * TIME MAGAZINE* VANITY FAIR * GLAMOUR 
2021 WOMEN'S PRIZE FINALIST
"Bennett's tone and style recalls James Baldwin and Jacqueline Woodson, but it's especially reminiscent of Toni Morrison's 1970 debut novel, The Bluest Eye." —Kiley Reid, Wall Street Journal 
"A story of absolute, universal timelessness …For any era, it's an accomplished, affecting novel. For this moment, it's piercing, subtly wending its way toward questions about who we are and who we want to be…." – Entertainment Weekly

From The New York Times-bestselling author of The Mothers, a stunning new novel about twin sisters, inseparable as children, who ultimately choose to live in two very different worlds, one black and one white.
The Vignes twin sisters will always be identical. But after growing up together in a small, southern black community and running away at age sixteen, it's not just the shape of their daily lives that is different as adults, it's everything: their families, their communities, their racial identities. Many years later, one sister lives with her black daughter in the same southern town she once tried to escape. The other secretly passes for white, and her white husband knows nothing of her past. Still, even separated by so many miles and just as many lies, the fates of the twins remain intertwined. What will happen to the next generation, when their own daughters' storylines intersect?
Weaving together multiple strands and generations of this family, from the Deep South to California, from the 1950s to the 1990s, Brit Bennett produces a story that is at once a riveting, emotional family story and a brilliant exploration of the American history of passing. Looking well beyond issues of race, The Vanishing Half considers the lasting influence of the past as it shapes a person's decisions, desires, and expectations, and explores some of the multiple reasons and realms in which people sometimes feel pulled to live as something other than their origins.
As with her New York Times-bestselling debut The Mothers, Brit Bennett offers an engrossing page-turner about family and relationships that is immersive and provocative, compassionate and wise.
Praise for The Vanishing Half: A GMA Book Club Pick (A Novel)
Named a BEST BOOK OF THE YEAR by The New York Times, The Washington Post, Time, NPR, Entertainment Weekly, Vulture, USA Today, GQ, Vanity Fair, Harper's Bazaar, Glamour, and Bustle
Praise for The Vanishing Half: 

"[Bennett's] second [book], The Vanishing Half, more than lives up to her early promise. . . more expansive yet also deeper, a multi-generational family saga that tackles prickly issues of racial identity and bigotry and conveys the corrosive effects of secrets and dissembling. It's also a great read that will transport you out of your current circumstances, whatever they are. . . Like The Mothers, this novel keeps you turning pages not just to find out what happens." —NPR
"Bennett's gorgeously written second novel, an ambitious meditation on race and identity, considers the divergent fates of twin sisters, born in the Jim Crow South, after one decides to pass for white. Bennett balances the literary demands of dynamic characterization with the historical and social realities of her subject matter."—The New York Times
"An eloquent new entry to literature on that most vital of subjects, identity, The Vanishing Half is the novel of the year."—TIME

"A story of absolute, universal timelessness — a story of what it means to simply be, to grow up and define oneself and reinvent, to negotiate a place in the world. It's also a deeply American story, rigorously engaged with a country's racist past and present, while interrogative of its foundational values, like choice and legacy. For any era, it's an accomplished, affecting novel. For this moment, it's piercing, subtly wending its way toward questions about who we are and who we want to be…." —Entertainment Weekly 
 
 "Beautifully written, thought-provoking and immersive… Issues of privilege, inter-generational trauma, the randomness and unfairness of it all, are teased apart in all their complexity, within a story that also touches on universal themes of love, identity and belonging…  The Vanishing Half, with its clever premise and strongly developed characters, is unputdownable and highly recommended."  —Associated Press

"Bennett pulls it off brilliantly… Few novels manage to remain interesting from start to finish, even — maybe especially — the brilliant ones. But… Bennett locks readers in and never lets them go… Stunning…She leaves any weighty parallels — between, for example, racial and gender determinism — to the reader. Her restraint is the novel's great strength, and it's tougher than it looks… The Vanishing Half speaks ultimately of a universal vanishing. It concerns the half of everyone that disappears once we leave home — love or hate the place, love or hate ourselves." —Los Angeles Times
 
"Provides a meditation on the nuance of race that feels important, now more than ever. It's the kind of novel that demands to be read — a propulsive, heartfelt work that keeps its reader both glued to the page and chastened by the idea that soon the experience will come to an end. . . You can call The Vanishing Half an escape, but it's a meaningful one." —InStyle
"My hope is that the warranted praise Ms. Bennett receives for this novel will have less to do with her efficient handling of timely, or 'relevant,' subject matter than for her insights into the mysterious compound of what we call truth: a mixture of the identities we're born with and those we create."—Wall Street Journal
 
"Reinvention and erasure are two sides of the same coin. Bennett asks us to consider the meaning of authenticity when we are faced with racism, colorism, sexism and homophobia. What price do we pay to be ourselves? How many of us choose to escape what is expected of us? And what happens to the other side of the equation, the side we leave behind? The Vanishing Half answers all these questions in this exquisite story of love, survival and triumph." —The Washington Post

"A stunning page-turner… It's a powerful story about family, compassion, identity and roots… You will be thinking about The Vanishing Half long after you turn the final page." —Good Morning America
"Brilliant … The Vanishing Half is at once a crowning jewel within that body of work and a standalone achievement that transcends the subject, a deeply human exploration of relationships and one of the most un-put-downable reads of the year." – GQ
 
"Intricately plotted, exceedingly moving story…with insights into the social and cultural history of passing, while telling what is at heart a tender story about sisterhood, identity and, as Bennett said, 'the endlessly interesting question of which elements in our identity are innate, and which do we choose?'"—San Francisco Chronicle

"Nuanced and deeply moving, The Vanishing Half is an unforgettable meditation on family, privilege, and belonging." – Esquire 
"The legacy of Toni Morrison looms large in The Vanishing Half." – Vox 

"If you're looking to escape into a fictional story, Bennett brilliantly examines race and identity, family and history, and love and belonging—and it just may make you reflect on the realities of your own." – Forbes

"Breathtaking plot." —People
"[The Vanishing Half] is a dazzling mosaic exploring racism, colorism, and the expectations we place on the ones we love the most." – Marie Claire

"I don't think I've read a book that covers passing in the way that this one does . . epic." —Kiley Reid in O, the Oprah Magazine
 
"Here, in her sensitive, elegant prose, [Bennett] evokes both the strife of racism, and what it does to a person even if they can evade some of its elements."—Vogue

"Bennett creates a striking portrait of racial identity in America." —TIME
  
"Bennett writes like a master, reminiscent of Toni Morrison, Anne Tyler and Elizabeth Strout." —BookPage
 
"One of Bennett's gifts as a writer is this: Her plots entertain you while her characters make you think. In this case, about race, gender, privilege, and the ways an identity can be built, challenged, and rebuilt." – Goop
"This is sure to be one of 2020's best and boldest… A tale of family, identity, race, history, and perception, Bennett's next masterpiece is a triumph of character-driven narrative." —Elle
 
"A marvel…The Vanishing Half is an intergenerational examination of identity, and what it's like to grow up in a body you've been conditioned to feel ashamed of. It's a poignant family story that doesn't shy away from the intersections of race, class, and gender—all while capturing the reader's heart and mind in a way only Bennett can." —The Rumpus
 
"Irresistible ... an intergenerational epic of race and reinvention, love and inheritance, divisions made and crossed, binding trauma, and the ever-present past." —Booklist, STARRED Review
 
"Assured and magnetic. . .Bennett is deeply engaged in the unknowability of other people and the scourge of colorism…calls up Toni Morrison's The Bluest Eye, the book's 50-year-old antecedent. . . .  [a] rich, sharp story about the way identity is formed."—Kirkus, STARRED review
 
"Impressive … This prodigious follow-up surpasses Bennett's formidable debut."—Publishers Weekly, STARRED review
"The Vanishing Half is an utterly mesmerising novel, which gripped me from the first word to the last. It seduces with its literary flair, surprises with its breath-taking plot twists, delights with its psychological insights, and challenges us to consider the corrupting consequences of racism on different communities and individual lives. I absolutely loved this book." —Bernardine Evaristo, Booker Prize winning author of Girl, Woman, Other
"The detail and the feeling showcased in every sentence Brit Bennett writes is breath taking. The Vanishing Half is a novel that shows just how human emotion, uncertainty and longing can be captured and put on paper." —Candice Carty-Williams, author of Queenie
 
"A novel of immense, shining, powerful  intelligence."  —Deborah Levy, two-time Booker shortlisted novelist

"An impressive and arresting novel. Perceptive in its insights and poised in execution, this is an important, timely examination of the impact of race on personality, experience and relationships." —Diana Evans, the Orange Award winning author of Ordinary People
 
"The Vanishing Half should mark the induction of Brit Bennett into the small group of likely successors to Toni Morrison, Zora Neale Hurston, and Nella Larsen.."  —Sara Collins, author of The Confessions of Frannie Langton