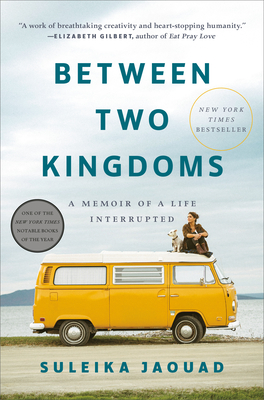 Between Two Kingdoms: A Memoir of a Life Interrupted
Publication Date:
February 9th, 2021
Usually Ships in 1 to 5 Days
Description
NEW YORK TIMES BESTSELLER • A deeply moving memoir of illness and recovery that traces one young woman's journey from diagnosis to remission to re-entry into "normal" life—from the founder of The Isolation Journals and a subject of the Netflix documentary American Symphony
ONE OF THE BEST BOOKS OF THE YEAR: The New York Times Book Review, The Washington Post, Bloomberg, The Rumpus, She Reads, Library Journal, Booklist
"I was immersed for the whole ride and would follow Jaouad anywhere. . . . Her writing restores the moon, lights the way as we learn to endure the unknown."—Chanel Miller, The New York Times Book Review
 
"Beautifully crafted . . . affecting . . . a transformative read . . . Jaouad's insights about the self, connectedness, uncertainty and time speak to all of us."—The Washington Post

In the summer after graduating from college, Suleika Jaouad was preparing, as they say in commencement speeches, to enter "the real world." She had fallen in love and moved to Paris to pursue her dream of becoming a war correspondent. The real world she found, however, would take her into a very different kind of conflict zone.
It started with an itch—first on her feet, then up her legs, like a thousand invisible mosquito bites. Next came the exhaustion, and the six-hour naps that only deepened her fatigue. Then a trip to the doctor and, a few weeks shy of her twenty-third birthday, a diagnosis: leukemia, with a 35 percent chance of survival. Just like that, the life she had imagined for herself had gone up in flames. By the time Jaouad flew home to New York, she had lost her job, her apartment, and her independence. She would spend much of the next four years in a hospital bed, fighting for her life and chronicling the saga in a column for The New York Times.
When Jaouad finally walked out of the cancer ward—after countless rounds of chemo, a clinical trial, and a bone marrow transplant—she was, according to the doctors, cured. But as she would soon learn, a cure is not where the work of healing ends; it's where it begins. She had spent the past 1,500 days in desperate pursuit of one goal—to survive. And now that she'd done so, she realized that she had no idea how to live.
How would she reenter the world and live again? How could she reclaim what had been lost? Jaouad embarked—with her new best friend, Oscar, a scruffy terrier mutt—on a 100-day, 15,000-mile road trip across the country. She set out to meet some of the strangers who had written to her during her years in the hospital: a teenage girl in Florida also recovering from cancer; a teacher in California grieving the death of her son; a death-row inmate in Texas who'd spent his own years confined to a room. What she learned on this trip is that the divide between sick and well is porous, that the vast majority of us will travel back and forth between these realms throughout our lives. Between Two Kingdoms is a profound chronicle of survivorship and a fierce, tender, and inspiring exploration of what it means to begin again.
Praise for Between Two Kingdoms: A Memoir of a Life Interrupted
"Here is the key to Between Two Kingdoms—Jaouad's disarming honesty. There is no self-pity in this telling and few of the expected pieties . . . Jaouad is writing about a process, a back-and-forth. In the tension between health and sickness, past and present, a new balance must be forged."—Los Angeles Times
"Jaouad's book stands out not only because she has lived to parse the saga of her medical battle with the benefit of hindsight, but also because it encompasses the less familiar tale of what it's like to survive and have to figure out how to live again."—NPR
 
"I was immersed for the whole ride and would follow Jaouad anywhere. Her sensory snapshots remain in my mind long after reading . . . Not only can Jaouad tolerate the unbearable feelings, she can reshape them into poetry . . . Her writing restores the moon, lights the way as we learn to endure the unknown."—Chanel Miller, The New York Times Book Review
 
"Beautifully crafted . . . affecting . . . a transformative read . . . Jaouad's insights about the self, connectedness, uncertainty and time speak to all of us, not only readers who've faced a life-changing—and potentially life-ending—diagnosis. . . . The timing of this memoir is just right."—The Washington Post
"When the life we had is snatched away, how do we find the conviction to live another? Between Two Kingdoms will resonate with anyone who is living a different life than they planned to live. This is a propulsive, soulful story of mourning and gratitude—and an intimate portrait of one woman's sojourn in the wilderness between life and death."—Tara Westover, author of Educated
"A beautiful, elegant, and heartbreaking book that provides a glimpse into the kingdom of illness . . . Suleika Jaouad avoids sentimentality but manages to convey the depth of the emotional turmoil that illness can bring into our lives."—Siddhartha Mukherjee, author of The Emperor of All Maladies

"In a book bubbling with ambition and impeccable skill, it is what Suleika Jaouad does with courage and secondary characters that is simply once in a generation. Between Two Kingdoms mended parts I thought were forever disintegrated."—Kiese Laymon, author of Heavy
"This is a deeply moving and passionate work of art, quite unlike anything I've ever read. I will remember these stories for years to come, because Suleika Jaouad has imprinted them on my heart."—Elizabeth Gilbert, author of Eat Pray Love

"Jaouad does a beautiful job of writing from this place of 'dual citizenship,' where she finds pain but also joy, kinship, and possibility."—Library Journal (starred review)
 
"Memorable, lyrical, and ultimately hopeful: a book that speaks intently to anyone who suffers from illness and loss."—Kirkus Reviews
 
"Boldly candid and truly memorable."—Booklist (starred review)
 
"This is a stunning memoir, well-crafted and hard to put down."—Publishers Weekly (starred review)