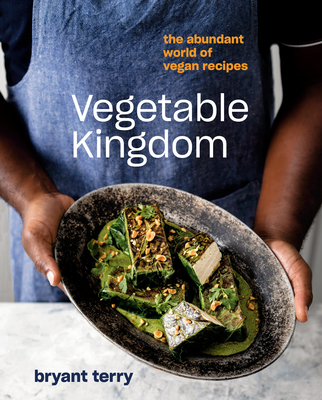 Vegetable Kingdom: The Abundant World of Vegan Recipes
Publication Date:
February 11th, 2020
Publisher:
Ten Speed Press
Usually Ships in 1 to 5 Days
Description
NAACP IMAGE AWARD WINNER • "Phenomenal . . . transforms the kitchen into a site for creating global culinary encounters, this time inviting us to savor Afro-Asian vegan creations."—Angela Y. Davis, distinguished professor emerita at the University of California Santa Cruz
JAMES BEARD AWARD NOMINEE • IACP AWARD FINALIST • ONE OF THE BEST COOKBOOKS OF THE YEAR: The New Yorker, The Washington Post, Vogue, San Francisco Chronicle, Forbes, Food & Wine, Salon, Garden & Gun, Delish, Epicurious
More than 100 beautifully simple recipes that teach you the basics of a great vegan meal centered on real food, not powders or meat substitutes—from the James Beard Award-winning chef and author of Afro-Vegan
 
Food justice activist and author Bryant Terry breaks down the fundamentals of plant-based cooking in Vegetable Kingdom, showing you how to make delicious meals from popular vegetables, grains, and legumes. Recipes like Dirty Cauliflower, Barbecued Carrots with Slow-Cooked White Beans, Millet Roux Mushroom Gumbo, and Citrus & Garlic-Herb-Braised Fennel are enticing enough without meat substitutes, instead relying on fresh ingredients, vibrant spices, and clever techniques to build flavor and texture. 
The book is organized by ingredient, making it easy to create simple dishes or showstopping meals based on what's fresh at the market. Bryant also covers the basics of vegan cooking, explaining the fundamentals of assembling flavorful salads, cooking filling soups and stews, and making tasty grains and legumes. With beautiful imagery and classic design, Vegetable Kingdom is an invaluable tool for plant-based cooking today.
Praise for Vegetable Kingdom
"In the great Black American tradition of the remix and doing what you can with what you got, my friend Bryant Terry goes hard at vegetables with a hip-hop eye and a Southern grandmama's nature. To paraphrase Maya Angelou, Bryant wants us to know that once we know vegetables better, we will cook vegetables better. He ain't lyin'."—W. Kamau Bell, comedian, author, and host of the Emmy Award–winning series United Shades of America
"[Terry's] perspective is casual and family-oriented, and the book feels personal and speaks to a wide swath of cooks . . . each dish comes with a recommended soundtrack, completing his mission to provide an immersive, joyful experience."—Publishers Weekly (starred review)
Praise for Vegetable Kingdom: The Abundant World of Vegan Recipes
"With Vegetable Kingdom, Bryant Terry positions great cooking exactly where it belongs: smack dab in the midst of our lives. Here is the kind of cooking in context—among kids and friends, ancestors and communities—that has the power to bring us profound meaning and pure pleasure. Bryant understands that our kitchens are where sustenance, and substance, simmer. With an inspired soundtrack and a loving spirit, he reminds us that the familiar, exotic, and delicious kingdom of vegetables offers all the richness we could ever want."—Cal Peternell, chef and author of Twelve Recipes; A Recipe for Cooking; and Almonds, Anchovies, and Pancetta
"Vibrant plant-based recipes—from Jerk Tofu Wrapped in Collard Leaves to Farro and Kidney Beans with Burnt Scallions—capable of exciting even die-hard carnivores."––Atlanta Journal-Constitution
"Vegetable Kingdom is an artful and inspiring volume that is not only a collection of innovative plant-based recipes, it's also a multifaceted celebration of culture, family, ecology, and health. Bryant Terry's true artistry is in his ability to celebrate and remix global foodways in vegan creations that are full of vitality and beauty. This gorgeous book gives everyone access to Bryant's amazing creative vision: it's a joyous collection of Afro-Asian recipes that delight the eye as well as the palate."—Thelma Golden, director and chief curator of The Studio Museum in Harlem, New York
"Vegetable Kingdom is an altar to our Diasporic ancestors, a legacy offering to our children, and a shrine to the plant friends who nourish us. As a parent, I felt inspired by the ingenious ways that Bryant 'Blackifies' uncommon vegetables and makes them kid-friendly. As a Haitian, I felt particularly jubilant as I prepared spicy Pikliz to the steamy Creole love ballad 'Ou Fe'm' that Bryant paired with the recipe. As an overworked, time-scarce person, I appreciated the tips for advanced prep on the weekends and inclusion of efficient meals."—Leah Penniman, co-director of Soul Fire Farm and author of Farming While Black
"Bryant Terry wrote Vegetable Kingdom for his daughters and we're so lucky we get to have it on our shelves, too. Whether or not you're vegan, it's full of recipes we all want to make in our kitchens. From crunchy slaws to creamy soups and vegetable po'boys, Bryant has created an inspiring collection of dishes that channel so many influences."—Julia Turshen, author of Small Victories, host of Keep Calm & Cook On, and founder of Equity at the Table
"I absolutely love Vegetable Kingdom, which is an inventive, mouth-watering feast of many kinds, and at the same time sensual, musical, intellectual, and cultural. What Bryant Terry has done most beautifully is to root African Diasporic and Asian cuisines in their proper soil of family and community. This book feels like home in the deepest sense—full of brilliant colors, sounds, smells, and flavors—and it is our great fortune to be invited in."—Jamel Brinkley, National Book Award finalist and author of A Lucky Man