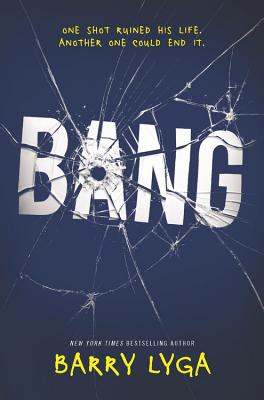 Bang
Publication Date:
April 18th, 2017
Publisher:
Little, Brown Books for Young Readers
Description
This is Where it Ends, Hate List, and Forgive Me, Leonard Peacock readers will appreciate this heartbreaking novel about living with your worst mistake, from New York Times bestselling author Barry Lyga.
Sebastian Cody did something horrible, something no one--not even Sebastian himself--can forgive. At the age of four, he accidentally shot and killed his infant sister with his father's gun.
Now, ten years later, Sebastian has lived with the guilt and horror for his entire life. With his best friend away for the summer, Sebastian has only a new friend, Aneesa, to distract him from his darkest thoughts. But even this relationship cannot blunt the pain of his past. Because Sebastian knows exactly how to rectify his childhood crime and sanctify his past. It took a gun to get him into this.
Now he needs a gun to get out.
Unflinching and honest, Bang is the story of one boy and one moment in time that cannot be reclaimed, as true and as relevant as tomorrow's headlines. "Fans of 13 Reasons Why will find a lot to like in Lyga's latest." -- Entertainment Weekly
Praise for Bang
Praise for Bang:
"Affecting, and unfortunately timely, Bang is a read that's worth your inevitable heartbreak."—Entertainment Weekly
"Lyga captures the heartbreak of Sebastian's situation with sensitivity and compassion, exploring how a life can be unfairly defined by just one action, how it's tragically easy to ignore humanity in favor of a headline, and just what communication, love and sharing the truth can do, especially when it comes to forgiving oneself."—The New York Times
* "Heartbreaking and brutally compelling."—Kirkus Reviews, starred review
* "[A] raw exploration of persistent social stigmas, a beautiful study of forgiveness, and an unflinching portrait of a parent's worst nightmare."—Publishers Weekly, starred review
* "Lyga tackles a number of relevant issues in this heartbreaking novel, including gun control, suicide, and religious and racial prejudice. The pain and anguish Sebastian feels every day are raw and chafing, and the chemistry between Sebastian and Aneesa is tender and realistic."—School Library Journal, starred review
* "Painfully raw and accented with hope and anguish, Bang will connect solidly with older teens looking for a deep and affecting story."—Shelf Awareness, starred review
"Lyga manages his intensely emotional material well, creating in Sebastian a highly empathetic character...."—Booklist
"Bang draws readers in from the first page and holds them captive."—VOYA
"The emotions are effectively detailed but not dauntingly complex, so there's plenty to discuss here for readers who might be lost in greater nuance and appreciate a firm authorial hand."—The Bulletin
Praise for the I Hunt Killers trilogy:* "A superb mystery/thriller that explores what it's like to have a monster for a father...Lyga delivers a taut, gory tale that can easily stand its own as an adult thriller...but it's Jazz's internal conflict about his exposure to his father's evil that adds extra dimension and makes the book shine."—Publishers Weekly, starred review
"I adored this book. The mystery pulls you in from the first pages, and Jazz is a more chillingly charming protagonist than Dexter Morgan."—Cassandra Clare, author of the Mortal Instruments series
"I Hunt Killers is an out-of-control hearse with one busted headlight, blood on the grille, a madman at the wheel, and laughter pouring out of the open windows.. Climb in, buckle up, and go for a ride. It's the best thing in YA fiction since The Hunger Games."—Joe Hill, author of Horns and Heart-Shaped Box
* "Lyga brilliantly combines the feel of a true crime story with mystery, adventure, and psychoanalysis...This story will appeal to a wide variety of older teen readers."—VOYA, starred review
"There is much to satisfy the blood-and-gore lust of older teen CSI and serial-killer fans."—Kirkus
* "[The game is] orchestrated so cunningly that rare indeed will be the reader who figures it out early...You can't deny Lyga's ambition to craft the most serious (and bloodiest) crime series yet for teen readers."—Booklist, starred review
*"[A] gory winner with raw appeal..."—School Library Journal, starred review