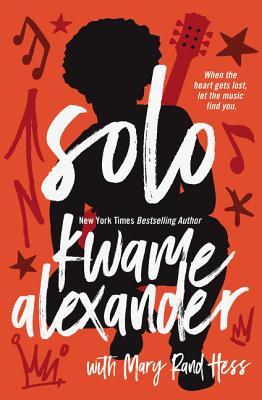 Solo
This product is not returnable.
Publication Date:
December 31st, 2075
Description
Solo by Kwame Alexander and Mary Rand Hess is a New York Times bestseller! Kirkus Reviews said Solo is, "A contemporary hero's journey, brilliantly told." Through the story of a young Black man searching for answers about his life, Solo empowers, engages, and encourages teenagers to move from heartache to healing, burden to blessings, depression to deliverance, and trials to triumphs.
Blade never asked for a life of the rich and famous. In fact, he'd give anything not to be the son of Rutherford Morrison, a washed-up rock star and drug addict with delusions of a comeback. Or to no longer be part of a family known most for lost potential, failure, and tragedy, including the loss of his mother. The one true light is his girlfriend, Chapel, but her parents have forbidden their relationship, assuming Blade will become just like his father.
In reality, the only thing Blade and Rutherford have in common is the music that lives inside them. And songwriting is all Blade has left after Rutherford, while drunk, crashes his high school graduation speech and effectively rips Chapel away forever. But when a long-held family secret comes to light, the music disappears. In its place is a letter, one that could bring Blade the freedom and love he's been searching for, or leave him feeling even more adrift.
Solo:
Is written by New York Times bestselling author and Newbery Medal and Coretta Scott King Book Award-winner Kwame Alexander
Showcases Kwame's signature intricacy, intimacy, and poetic style, by exploring what it means to finally go home
An #OwnVoices novel that features a BIPOC protagonist on a search for his roots and identity
Received great reviews from Publishers Weekly, School Library Journal, Booklist, and Kirkus.
If you enjoy Solo, check out Swing by Kwame Alexander and Mary Rand Hess.
Praise for Solo
A rhythmic, impassioned ode to family, identity, and the history of rock and roll. — Booklist (starred review)
A contemporary hero's journey, brilliantly told. — Kirkus Reviews (starred review)