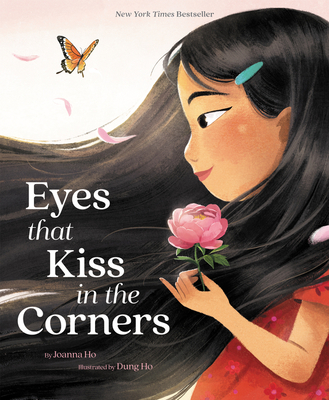 Eyes That Kiss in the Corners
Publication Date:
January 5th, 2021
Usually Ships in 1 to 5 Days
Eyes That Kiss in the Corners is a stunning #OwnVoices picture book that highlights a young Asian girl's self-love and appreciation of her eye shape. It is a characteristic that binds her to women across generations in her family. The beautiful prose of Joanna Ho is richly complemented by Dung Ho's vibrant illustrations. This book is a moving tribute to the beauty of diversity both in physical appearance and heritage.
Winter 2020 Kids Indie Next List
Description
A New York Times Bestseller and #1 Indie Bestseller · A Bank Street Best Children's Book of the Year · A School Library Journal Best Book of 2021 · Included in NPR's 2021 Books We Love List · Featured in Forbes, Oprah Daily, The Cut, and Book Riot · Golden Poppy Book Award Winner · Featured in Chicago Public Library's Best Books of 2021 · 2021 Nerdy Award Winner · A Kirkus Children's Best Book of 2021
This lyrical, stunning picture book tells a story about learning to love and celebrate your Asian-shaped eyes, in the spirit of Hair Love by Matthew A. Cherry, and is a celebration of diversity.
A young Asian girl notices that her eyes look different from her peers'. They have big, round eyes and long lashes. She realizes that her eyes are like her mother's, her grandmother's, and her little sister's. They have eyes that kiss in the corners and glow like warm tea, crinkle into crescent moons, and are filled with stories of the past and hope for the future.
Drawing from the strength of these powerful women in her life, she recognizes her own beauty and discovers a path to self-love and empowerment. This powerful, poetic picture book will resonate with readers of all ages.
"This tale of self-acceptance and respect for one's roots is breathtaking." —Kirkus (starred review)
"A young girl finds beauty in her uniqueness." —School Library Journal (starred review)
"A lyrical celebration of her eyes, their shape, spirit, and legacy."  —Booklist (starred review)
"A poignant testament to familial love and legacy." —Publishers Weekly
Plus don't miss the beautiful companion book from the same team: Eyes That Speak to the Stars.
Praise for Eyes That Kiss in the Corners
"When the narrator comes to describe her own eyes and acknowledges the power they hold, she is posed against swirling patterns, figures, and swaths of breathtaking landscapes from Chinese culture. This tale of self-acceptance and respect for one's roots is breathtaking." — Kirkus Reviews (starred review)
"Sweeping, expressive illustrations deeply connect readers to the many dimensions of this story…each word is carefully chosen to beautifully enhance the message. Expertly paired, the text and illustrations amplify each other superbly, in an important addition to every library serving young children and their families." — School Library Journal (starred review)
"At the emotional height of the story, the poetic descriptions of her Asian eyes are mythic and affirming, and she appears amid grandiose illustrations of fantastical beasts and landscapes from Chinese culture. In the end, the tale winds down from the mythical back to the personal with a simple family portrait. All that beauty is there in the eyes of her family." — Booklist (starred review)
"A poignant testament to familial love and legacy." — Publishers Weekly