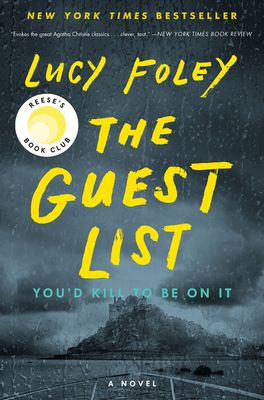 The Guest List: A Reese's Book Club Pick
Publication Date:
June 2nd, 2020
Publisher:
William Morrow
Usually Ships in 1 to 5 Days
Description
A REESE'S BOOK CLUB PICK
THE NEW YORK TIMES BESTSELLER
ONE OF THE NEW YORK TIMES BEST THRILLERS OF THE YEAR
"I loved this book. It gave me the same waves of happiness I get from curling up with a classic Christie...The alternating points of view keep you guessing, and guessing wrong." — Alex Michaelides, #1 New York Times bestselling author of The Silent Patient
"Evok[es] the great Agatha Christie classics…Pay close attention to seemingly throwaway details about the characters' pasts. They are all clues." -- New York Times Book Review
A wedding celebration turns dark and deadly in this deliciously wicked and atmospheric thriller reminiscent of Agatha Christie from the New York Times bestselling author of The Hunting Party.
The bride – The plus one – The best man – The wedding planner  – The bridesmaid – The body
On an island off the coast of Ireland, guests gather to celebrate two people joining their lives together as one. The groom: handsome and charming, a rising television star. The bride: smart and ambitious, a magazine publisher. It's a wedding for a magazine, or for a celebrity: the designer dress, the remote location, the luxe party favors, the boutique whiskey. The cell phone service may be spotty and the waves may be rough, but every detail has been expertly planned and will be expertly executed.
But perfection is for plans, and people are all too human. As the champagne is popped and the festivities begin, resentments and petty jealousies begin to mingle with the reminiscences and well wishes. The groomsmen begin the drinking game from their school days. The bridesmaid not-so-accidentally ruins her dress. The bride's oldest (male) friend gives an uncomfortably caring toast.
And then someone turns up dead. Who didn't wish the happy couple well? And perhaps more important, why?
Praise for The Guest List: A Reese's Book Club Pick
"Evoking the great Agatha Christie classics And Then There Were None and Murder on the Orient Express, Lucy Foley's clever, taut new novel, The Guest List, takes us to a creepy island off the coast of Ireland…Foley builds her suspense slowly and creepily, deploying an array of narrators bristling with personal secrets…Pay close attention to seemingly throwaway details about the characters' pasts. They are all clues." — New York Times Book Review
"I didn't think Lucy Foley could top The Hunting Party, but she did! I loved this book. It gave me the same waves of happiness I get from curling up with a classic Christie. A remote, atmospheric island, a wedding no one is particularly happy to be at, old secrets—and a murder. The alternating points of view keep you guessing, and guessing wrong. I can't wait for her next book." — Alex Michaelides, #1 New York Times bestselling author of The Silent Patient
"A swank celebrity wedding on a remote island with spotty cell service? What could go wrong? Lap up the luxe details, then hold your breath for dark twists as a guest turns up dead." — People
"Lucy Foley gets better with every book...The characters leap off the page, the twists are darker and more unexpected, and the setting is straight out of a Gothic novel...Yes, there's a murder, but there's so much more than that. (The twists, I admit, are pretty good too.)" — Marie Claire
"Murder on the Orient Express and And Then There Were None rolled into one...Fans of Christie, Louise Penny, and Ruth Rendell will absolutely love this book." — Library Journal (starred review)
"Lucy Foley has done it again....Cozy up with this whodunnit and watch the hours fly by." — Good Housekeeping
"An updated Murder on the Orient Express." — Booklist
"Wedding season means a thrilling web of mystery in The Guest List." — Parade
"[Foley's] puzzle is solid, she plays fair with the reader, and overall her story is swift and entertaining." — Seattle Times
"Easily my favorite book of 2020 so far...Will keep you guessing until the very end." — Better Homes & Gardens
"No one may have come to the island intending to murder, but this destination wedding spirals into mayhem when it's slowly revealed that most everyone in attendance is capable of becoming a lusting-for-revenge killer."
— Washington Post
"This thrilling page turner will have you guessing until the very end." — OK! Magazine
"This juicy murder mystery is a perfect Agatha Christie–esque summer read." — Afar Magazine
"An Agatha Christie-like thriller." — Huffington Post
"Foley delivers another atmospheric, Agatha Christie-style whodunit with The Guest List. The multiple points of view will keep you guessing right until the end." — Buzzfeed
"Lucy Foley has honed her unique brand of reverse-whodunit suspense down to a science—and thank goodness for that. ... The Guest List—set at a ritzy wedding-gone-wrong on a remote Scottish isle—starts with a murder, and then plays a game of keep-away with the victim's identity until the very last pages." — Harper's Bazaar
"There's clues on nearly every page, but no spoilers here. Needless to say, you'll be up late flipping through your Kindle until all is revealed." — Mashable
"With a dizzying array of suspects, this delicious thriller has all the elements for the perfect whodunit." — Columbus Dispatch
"Foley expertly peels back the layers of eight highly suspicious members of the wedding party, and all with murderous secrets. This summer best seller, a Reese's Book Club pick, will keep you transfixed to the end." — AARP Magazine
"The one thing you can expect from Foley's novels? That you'll probably never guess the twist...or should we say twists when it comes to her latest bestseller…you'll never see the ending coming. RSVP at your own risk." — E! Online
"A delightfully suspenseful thriller. ... Set in such an isolated location, with a fairly small cast of characters, The Guest List feels a bit like a modern Agatha Christie novel. It is a fast-paced, intriguing mystery." — Shelf Awareness
"Clever." — Popsugar
"Lap up the luxe details, then hold your breath for dark twists." — People