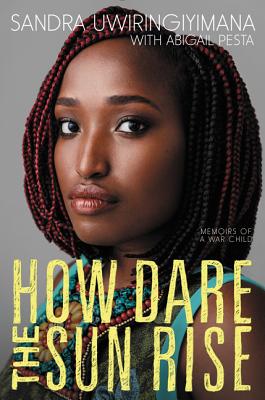 How Dare the Sun Rise: Memoirs of a War Child
Publication Date:
May 16th, 2017
Publisher:
Katherine Tegen Books
Description
Junior Library Guild Selection * New York Public Library's Best Books for Teens * Goodreads Choice Awards Nonfiction Finalist * Chicago Public Library's Best of the Best Books for Teens: Nonfiction * 2018 Texas Topaz Nonfiction List * YALSA's 2018 Quick Picks List  * Bank Street's 2018 Best Books of the Year
"This gut-wrenching, poetic memoir reminds us that no life story can be reduced to the word 'refugee.'" —New York Times Book Review
"A critical piece of literature, contributing to the larger refugee narrative in a way that is complex and nuanced." —School Library Journal (starred review)
This profoundly moving memoir is the remarkable and inspiring true story of Sandra Uwiringiyimana, a girl from the Democratic Republic of the Congo who tells the tale of how she survived a massacre, immigrated to America, and overcame her trauma through art and activism.
Sandra was just ten years old when she found herself with a gun pointed at her head. She had watched as rebels gunned down her mother and six-year-old sister in a refugee camp. Remarkably, the rebel didn't pull the trigger, and Sandra escaped.
Thus began a new life for her and her surviving family members. With no home and no money, they struggled to stay alive. Eventually, through a United Nations refugee program, they moved to America, only to face yet another ethnic disconnect. Sandra may have crossed an ocean, but there was now a much wider divide she had to overcome. And it started with middle school in New York.
In this memoir, Sandra tells the story of her survival, of finding her place in a new country, of her hope for the future, and how she found a way to give voice to her people.
Praise for How Dare the Sun Rise: Memoirs of a War Child
"This gut-wrenching, poetic memoir reminds us that no life story can be reduced to the word 'refugee.' Uwiringiyimana weaves the pieces of her life into a fine tapestry that evokes deep empathy, even as it provides an excellent introduction for young readers to the political and economic climate in a conflict-ridden African region." — New York Times Book Review
★ "The title is a critical piece of literature, contributing to the larger refugee narrative in a way that is complex and nuanced but still accessible for a YA audience. This poignant memoir is a must-have for teen collections." — School Library Journal (starred review)
"As America's doors threaten to shut against refugees, this memoir could not be timelier. Her ability to summon the chaos and terror is extraordinary, but then, so is she. [Uwiringiyimana] has emerged as a powerful spokesperson for the plight of the dispossessed." — Booklist
"With compassion and perspicacity, Uwiringiyimana shares the journey through which she became a courageous advocate for her tribe and refugees everywhere: 'This is my story.... I must keep telling it, until the international community proves.... that my family and all others are not disposable.'" — Publishers Weekly
"Sandra's account of her transition to America is fully as engrossing as her family's escape from their war-torn homeland, and her memories of trying to navigate American culture...will provoke consideration even with readers who look upon immigrant classmates and neighbors with indifference." — Bulletin of the Center for Children's Books
"The politically and culturally complex picture of Africa that the author paints is welcome, and the complexities of black identity for recent immigrants versus that of diasporic black people are not often touched upon in YA literature."   — Horn Book Magazine
"[A] story of tragedy, terror, survival, and hope. [Uwiringiyimana] becomes a powerful voice for many who are silenced: girls, women, and immigrants everywhere, refugees in particular. This hard-hitting autobiography will have readers reeling as it shows one young woman's challenging path to healing." — Kirkus Reviews
"A brave and honest story that puts a human face on the international refugee crisis-and asks us all to walk a mile in Sandra's shoes." — Patricia McCormick, author of Sold and Never Fall Down
"Sandra's life story has profound power. From Africa to America, to the world-an inspiring tale and a riveting read." — Joanna Coles, Chief Content Officer, Hearst Magazines
"In a world on fire, Sandra's story of survival delivers essential truths and a message of peace and unity that speaks to us all." — Tina Brown, founder and CEO of Tina Brown Live Media/Women in the World